This Company Lets Kids Design Their Own Clothes, And The Results Are Insanely Cute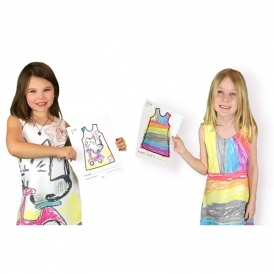 Jaimee Newberry is a VERY talented momma of two who had the brilliant idea of attempting to sew a dress based on one of her daughters drawings; and with that, Picture This was born.

If there's one thing every mom can agree on, it's that kids love seeing their imagination come to life. The satisfaction kids get in making their own bracelets, necklaces or cards surpasses most things
Picture This takes that idea, and brings it to life. This company turns children's doodles and drawings into real life clothes they can actually wear, and the results are insanely cute!

The concept seems simple, but it took a visionary like Jaimee to make it happen. With a little doodling and a few clicks, your kid will be wearing their own artwork in just 2 weeks time!
Here's how it works...
1. First, a child creates a drawing, design or doodle, or you can even use a drawing that they've previously made.
2. Then grab your template and cut out the dress design template, which can be printed from the Picture This Website.
3. Next, line up the drawing with the template. Place the template over the drawing with how you'd like to see it on the dress.

4. Take a picture of it with your smartphone and upload it to their website. Click here for guidelines.

The last step — wait two weeks and your little one's creation will arrive in the mail. Made of cotton blend fabric for just $49!
If you want to try Picture This yourself, visit the website here. We just love everything about this, Jaimee is just brilliant! Now, I'm going to go print some of these templates and see if the kids have what it takes to 'dress themselves' for once...