Lil' Squirt Baby Wading Pool $34.99 @ Amazon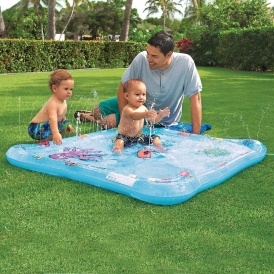 How cute is this pool? The last time we shared this pool from OneStepAhead it sold out in minutes, now it's back on Amazon for $34.99!
If you're looking for a baby pool that's a lot of fun, this is the one to grab.
Let you baby cool off in a gentle pool, with soft sprayers to splash in for hours. It's so simple to set up just attach your garden hose and the soft sprayed can be adjusts depending on how high you turn the hose on.
These pools will sell out quick, last year when they went on sale they only lasted a few days, this wading pool is extra popular (and extra fun!).
The design of the mat is under the sea, with floating 3D fish and octopus floating around with your little one and they'll love covering the whales' blow hole or tickling the turtles and fish!