Where To Buy The Binxy Baby Shopping Cart Hammock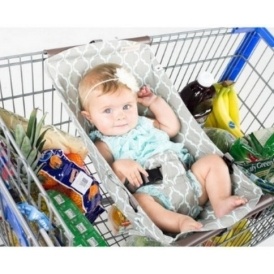 Sometimes we stumble across the most genius baby inventions and we have to share. When browsing Pinterest this weekend I stumbled across the Binxy Baby Shopping Cart Hammock that makes grocery shopping with an infant 20x easier.
We've seen a bunch of baby attachments for grocery carts in the past, but the Baby Shopping Cart Hammock tops them all.
This is the only way to grocery shop for new moms, and it fits on every grocery cart we've tried it on. The best part? You can roll it up and store it in your purse when not in use and then pull it out and clip it on, in seconds to your cart.
We've been keeping up with where you can score one in stock below:

In Stock
The Binxy comfy cart hammock meets all applicable safety standards and comes in 4 different patterns we just love.
Expect stock on these to vary throughout the year as they are in high demand. Bookmark and share this post to keep up with stock levels or to let a friend know about this genius product!