Back To School Cheat Sheet: These Are The Deals and Sales You Should Know
23 July 2016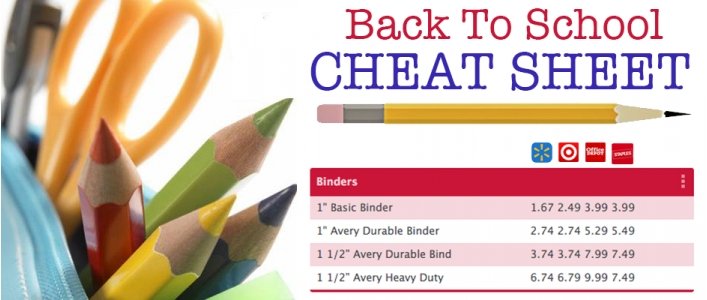 Our team will be covering every back to school deal on our Back To School Sales page. Make sure to bookmark and follow along as we go!
Back To School is approaching, and for moms it can be a blessing and a curse; the kids back to school (and out of the fridge), but now that you've gotten most of the summer fun out of the way, it's time to get down to business. It can cost a fortune buying school supplies for the new year, so it's super important to think about how to get the best deals on the things you need to buy.
Thankfully, you don't have to go it alone, mama! We've been scouring the sales of all the major retailers, so you can be sure that you're not paying more than you have to! So join us as we cover all the best deals on our Back To School coverage page.
We've been comparing the advertised prices of supplies at stores like Walmart and Staples, Office Max and Target (which have all had some super big sales!).
Overall, Walmart is taking the lead for lowest prices (like .97 for a box of 20 #2 Pencils) followed by Staples (thanks in part to their 1 cent deals), OfficeMax and Target, respectively. Some retailers still haven't announced their back to school deals, but we'll be ready for them when they do!
Although, online shopping usually guarantees you the biggest savings, that's not the case when it comes to Back to School Supplies; in-store prices typically beat online prices in this category! So whether you're on the hunt for notebooks, binders or looseleaf paper; or you're searching for backpacks, lunch boxes or school uniforms; if there's a super deal, we'll help you find it!
So we've put together this simple side-by-side price comparison chart to help get you started on your back to school savings journey! We'll update the items and prices as they change so be sure to check back often! And congratulations on making it through another summer!

Don't forget to Pin this cheat sheet so you can use it later!
More Back To School