Coolest Kids Backpacks of 2016
9 August 2016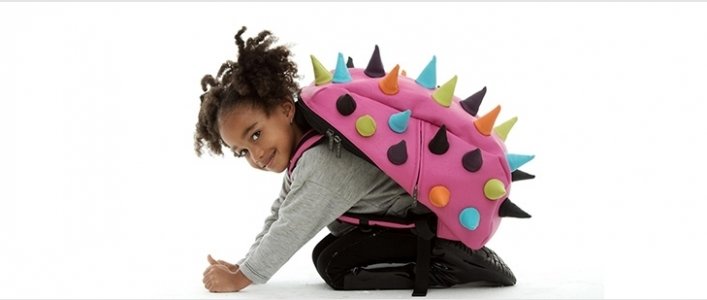 Looking for kids backpacks? We've got you covered. We made a list of school backpacks from the trendiest instagram accounts so you can be all over the coolest backpacks for your little one(s) this fall.

The coolest and probably, let's face it, most retro bags of 2016 are definitely those made by the Swedish company Fjällräven Kanken. One quick breeze through their instagram account and you'll find yourself wanting one for yourself, your kid(s), and even your neighbour. Fair warning: you might also have to fight the urge to embark on a backpacking adventure to Sweden, as well.
Eco-friendly, hyper-modern, and designed in Toronto, Canada, SoYoung bags are sort of an obvious pick for a lot of parents this year. This company makes kids backpacks, lunch bags, cooler bags, and diaper bags. They range in price from $39.99 - $44.99 USD. They check off all the boxes for socially conscious parents, what with their raw linen exterior, as well as being PVC, phthalate, lead and BPA free.
Potterybarnkids Star Wars Bags and Classic Critter Unicorn Backpacks @potterybarnkids
I love me some Star Wars merch and like many fans, big and small, that enthusiasm doesn't wax and wane whether there's a movie coming out. These bags are plush, playful and make signature noises from Chewbacca's roar to R2-D2's beeps and boops. I think they are clearing out the Chewbacca bags for 40% off right now online.
The Classic Critter Unicorn bags at Pottery Barn for just under $40 US have also been getting some serious buzz. They're adorable, made of rugged cotton twill, and they come with an exterior side pocket that can fit a water bottle (they sell one that matches the set).
Skip Hop Zoo Bags @skiphop
These bags are absolutely adorable. While I am personally inclined to the unicorn version of this bag (see below), there are twenty-five variations available from bumblebees to bunnies. Each bag comes with mesh side pocket perfect for a juice box or water bottle. They're also pretty durable, have an slick lining and have padded, adjustable straps. They run about $20 USD, but if you buy them from Skip Hop directly and spend more than $65 USD, you get a free gift with purchase. Alternatively, a limited selection of the series is also online at Amazon.com. They also make matching accessories like lunch boxes, "zootensils," and "zoobrellas."
The Star Wars Awakens Backpacks @disneystore

Though I don't want to refer too much to Star Wars backpacks, but there are just too many out there this year. I'd be remiss if I didn't include Disney's bags, which may not include the soundscape the ones from Pottery Barn -- but if you're anything like me, you might appreciate that! The series has a backpack, a water bottle, a lunch bag, and a supply kit.
MadPax Bubble and Spiketus Rex Bags @madpaxofficial
It doesn't end with 3D movies, now, there are 3D backpacks. The "nibbler" size is great for tots, with spike, flower, and bubble options available. Anyway, these ones are cute, fun, and run just under $40.00 and up to $90.00, depending on which size. There are also lunchbags available. You can find them online at Zappos.com, on ebay, or you can go direct to MadPax.com.
---
If you're a visual thinker, be sure to search #kidsbackpacks on instagram and you can start compiling your very own list of faves! And feel free to share some of them in the comments below ;)

More Back To School