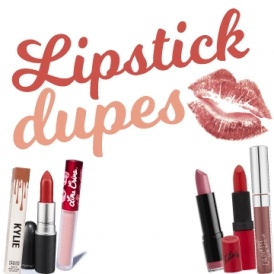 Pucker up! We've got the best lipstick dupes for 2017. Buying these instead of the luxury brands will save you a fortune and keep those lips looking downright luscious.
Check back for our next round of dupes, which we will be posting on the regular. You can save even more with 2017's best foundation dupes!

Ruby Woo is probably the most famous red out there, because it looks fantastic on pretty much everyone. Not everyone can afford the $17 price tag though, especially if you buy it often. Instead, this Rimmel dupe is a great stand-in. It might not last as long on your lips, but the color is almost identical.
Say what you want about Kylie Jenner, but her lipsticks are some of the best out there. Luckily, ColourPop has a matte lipstick that's almost the same shade but way cheaper. Seriously. You can almost buy five ColourPop products for the price of one from Kylie.
MAC Velvet Teddy is famous for a reason, but it's so popular that it's often out of stock. Wet n Wild's MegaLast lip color might not be quite the same shade or wear, but who can say no to $2.29 in a pinch?
Lime Crime's Cashmere is absolutely incredible. It's a tough shade to compete with, but NYX's Creamy Round Lipstick is a decent replacement. No, it doesn't last as long as the iconic Velvetine, but it actually moisturizes your lips a little better for a fraction of the price.
You can save over $40 right here. Honestly, no one can really beat Tom Ford, but few people can afford their products, either. These two are fairly similar, and the $8 price tag is hard to beat.
Clinique Chubby Sticks moisturize better than pretty much anything else. If you use it every day, though, it can get pretty expensive. CoverGirl doesn't have a shade that quite matches Curviest Caramel, but the Ballet Twist is still lightweight and easy to apply.
Lip glazes can be hard to get right, and Stila does a pretty great job with their line. elf's product is definitely stickier, but the color is close enough that you can get away with saying it's Stila's Apricot.
---
Looking for a particular dupe? Let us know in the comments below and we'll see if we can't help you out!