The Best Foundation Dupes for 2017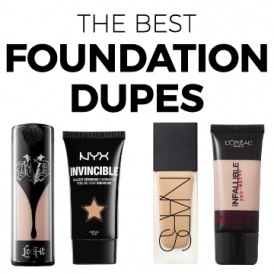 Looking for the perfect foundation but don't want to spend a fortune? There's a dupe for that! Here's our list of foundation dupes for 2017 that will keep you looking your best while saving a ton of cash!
We've made a list of absolutely stellar Pinterest-approved foundation dupes that will save you hundreds. Be sure to check back in for more posts from our makeup dupes guide, where you'll find the best makeup dupes from lipstick dupes to mascara dupes, to much more. In the meantime, enjoy these foundation dupes!
Estēe Lauder's Double Wear Makeup vs. Revlon's Colorstay Foundation
People swear by Estēe Lauder's Double Wear Makeup for its flawless coverage that last all day, and then some. It's lightweight, oil-free, and fragrance-free -- it's also expensive! At $46/bottle it's not for everyone, especially those of us who know a solid dupe when we find one. Revlon's Colorstay Foundation is a well-known dupe. You can find countless tutorial showcasing the similarities between these two products in their consistency, coverage, blends, and wear. Why spend $46, when you can spend a quarter of the price on a virtual copy!?
MAC Foundation vs. Maybelline FIT me! Foundation
MAC's popular face and body foundation is popular because it isn't too heavy on the skin and is able to pull off a surprisingly natural finish. It'll set you back about $30 for 50 ml though. The good news is that Maybelline's FIT me! foundation delivers a copy-cat product for less than $6! It's called the Maybelline Fit Me! Give it a dry -- you'll be amazed at the similarity.
Bobbi Brown Foundation vs. Maybelline's Fit Me Foundation Stick
Bobbi Brown Skin Foundation Stick is a creamy/weightless formulation that delivers long-lasting coverage that is both buildable and natural-looking. The benefit of Bobbi Brown is that they have about thirty different colors in the palette so you'll definitely be able to find the perfect match for your skin tone. But if you don't want to drop the $55, Maybelline's Fit Me Foundation Stick is an impressive dupe with a gel-cream foundation formula. At only $7, it's a beauty steal!
Kat Von D Foundation vs. NYX Invincible Fullest Coverage Foundation
No question, Kat Von D foundation is a top-of-the-line high-pigment, full-coverage foundation. It has an impressive matte finish and it delivers 24-hour wear, with over thirty shades. NYX is a proper dupe; though it only has 10 shades (and not thirty!), it provides a similarly high pigment load, leaving a finish that is soft, matte, and well, pretty much flawless! For a third of the price, it's not a hard sell to choose NYX over Kat Von D on this one!
Giorgio Armani Foundation Dupe
Giorgio Armani Foundations are AH-MAZING... but they're so expensive! A gift from the universe is L'Oreal True Match Lumi Healthy Luminous Makeup vs. L'Oreal True Match Lumi Healthy Luminous Makeup. It offers a ridiculously similar finish; sure L'Oreal only has 15 shades to Armani's 24 shades, it's really a matter of degrees. Want to know the inside scoop? Both products are owned by the same umbrella company, so we'r really talking about a branding difference more than anything else!
NARS Lumination Foundation Dupe vs. L'Oreal Paris Infallible Pro-Matte Foundation
NARS Foundation is one of the highest ranking and best-selling foundations available, but at $49 per bottle, it's not the most affordable product. NARS is highly pigmented, offers lightweight coverage, and provides a natural-looking finish -- but I have great news -- SO DOES L'Oreal Paris Infallible Pro-Matte. It's just as light-weight, with excellent coverage and long-lasting application, at a quarter of the price!
Becca Aqua Foundation vs. Sonia Kashuk Perfecting Luminous Foundation
Let's be honest, Becca's Aqua Luminous Perfecting Foundation is the perfect balance of lightness and flexibility. It creates buildable coverage that creates a soft glow and radiant finish. If you aren't interested in spending $44 on your foundation, you can opt for Sonia Kashuk's Perfecting Luminous Foundation. It matches almost any skin tone and delivers a healthy glow, while hydrating your skin at the same time.
Hourglass Cosmetics Foundation Dupe vs. Rimmel London Stay Matte Liquid Mousse Foundation
Hourglass Cosmetics cream-to-powder foundation has flawless blending abilities and is probably one of the lightest, smoothest, and most natural-looking foundations on the market (can you tell I'm a fan?!), but, even I struggle to invest $50+ when the Rimmel Stay Matte Liquid Mousse Foundation delivers an almost identical performance. On top of everything, Rimmel's produce even provides long-lasting shine control. Did I mention Rimmel's product is only $5? Mic drop.
Let us know if you like these dupes because there's more where these came from!