2-Pack of Munchkin 360 Degree Trainer Cups With Handles Just $7.98 @ Amazon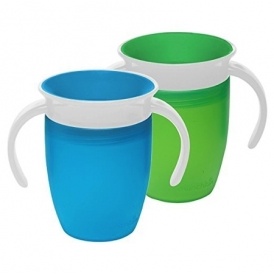 Amazon has a great deal on these uber popular 2-Packs of Munchkin 360-Degree Trainer Cups with Handles. They're just $7.98 right now (regularly $13)! That's just $3.99 per cup!
These are by far our favorite cups - letting your kiddos drink just like a big kid without any of the spills or messes.
And you don't have to clean up all those spouts and straws and other little mechanisms that come with all those other sippy cups.
And with the comfort grip of handles too! (We love those!!!)

These 360-degree cups let them sip from any edge of the cup just like a regular cup but when they're done, the cup automatically seals itself back off so there's no drips or spills.
And let me tell you, as a mom who has tossed one of them in our bag while running errands, I can vouch that there was no mess in my purse!
You can choose from the Blue & Green or Pink & Orange sets (or just grab one of each and have plenty for the kids at all times).

These same cups are selling for $15 at buybuyBaby and Bed Bath & Beyond right now. They also come without the gripper handles but I've found they're worth their weight in gold.

These are an Add-On Item so that means you'll get that price and free standard shipping with an order of $25 or more.
Amazon has all sorts of Add-On Items at super low prices and they are available at these low prices when you make a purchase of $25 or more.
They do this by taking these items that aren't financially economical to ship alone and offer them super cheap when they're combined with an order of $25.
Your order can be entirely made up of Add-On Items too. As long as it's $25 or more, they ship for free and for their low price.
If you have Prime though you can get free 2-day shipping instead of standard.