Alert: Target Will Be Selling Hatchimals This Sunday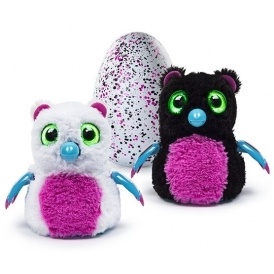 Any mommas out there still hunting for Hatchimals? If so, your favorite retailer in red has your back this Christmas.
Target just announced that it's expecting a large restock of the hot toy this Sunday December 11th.
These Hatchimals will be priced at $59.99 so not the lowest price we found them for this season when they could be found...but definitely better than what they're going for online right now!
And to try to help make sure every sanity-deprived mom who's been on the hunt the past two months gets one, they're limiting them to two per guest and only while supplies last.

Target has also added Hatchimal-themed gift cards to their line of gift cards this year that you can have loaded with any dollar amount you choose. So worst-case scenario, if you aren't able to get one this weekend or again before the big day, you can at least get a Hatchimals-themed gift card and pair it with the official santa letter Hatchimals just released as a backup plan.
At least they probably won't be totally devastated when they don't find that egg under the tree this year, but I mean, it is a pretty cool bonus to get a letter from Santa himself about it too!
And then they can use their Target gift card to purchase a Hatchimal when more inventory arrives in late-December and after Christmas in early January. Or anything else they want for that matter. (Although I'm pretty sure they want a Hatchimal... at least it seems to be just a little bit popular lol).
Seriously, a few months ago, most of the Mom Deals group weren't even sure what the heck a Hatchimal was. After video testing them out for ourselves with a few (while they were stocked everywhere in abundance), we all fell in love. They seriously are so cute and such a fun interactive way to keep the kids entertained.

So hang in there mommas! All hope is not lost if you have been unable to get a Hatchimal yet this year. And it's good to know that if you don't, us moms have banded together to come up with some clever ways of still keeping the magic in the kids' eyes this Christmas.
And also, if someone could get all of us moms a Hatchimal that hatches wine after this insanity, we'd appreciate it!