Top 8 Pokemon Toys For Christmas 2016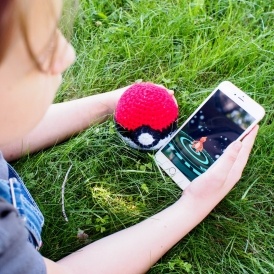 Pokémon Go has gone completely viral this year and with that rise in popularity comes the demand for scoring the best Pokemon Christmas toys!
If you're one of the mommas on the hunt to 'catch them all' for Christmas that is you're in the right place.
We've scoured the internet for the best of the best and compiled this list of the 'Top Pokémon Toys for Christmas 2016' so you can grab the best Pokémon toys for your little trainer without having to sift through all the junk.
1. Pokémon GO Plus
If you don't know about the new Pokémon GO Plus wearable, you will soon. It was just released and sold out in minutes. It's pretty much a bracelet, that let's Pokémon trainers know about notifications going on in game instead of lugging out the phone (or moms phone for that matter) every 5 seconds.
Head over here to keep up with Pokémon GO Plus stock levels.
2. Pokémon My Friend Pikachu
The Pokémon My Friend Pikachu toy has landed on hot toy lists everywhere this year and for good reason, kids love it! This adorable little plush doll has ears that move, cheeks that light up and plays a bunch of cute sounds!
3. Over-the-Ear Pokemon Headphones
We love these Poké ball headphones. Let your little trainer listen to his favorite music while playing Pokémon go this Christmas. These Pokémon headphones will be hot this year, so expect them to sell out in some areas.
4. Pokémon Monopoly
Have a little one that LOVES Pokémon AND Monopoly? I do! He's always wanting to play Monopoly and is going to love when he finds this Pokémon Monopoly under the tree. Go gym by gym through the monopoly board and collect trainer cards and Professor Elm cards that contain either rewards or sneaky surprises.
5. Pokémon Clip-n-Carry Poke Ball Cross Belt

These belts are the perfect gift for younger Pokéfan who might not have a smartphone with Pokémon go yet. Wear your Pokémon right on your waist and keep them inside clip-able balls.
6. Pokémon How-to-Draw Kit: Starting with All-Stars!
Looking to spark the creative side of your little Pokéfan? This book is a great idea for a stocking stuffer that is a step by step guide on how to draw Pokémon.

7. Throw 'n Pop Poké Balls
Kids can master their Pokémon-training skills by practicing throwing Poké Balls with their favorite Pokémon inside. Throw 'n Pop Poké Balls are a fun way to battle friends the kids will love.
8. Replica Ash Ketchum cap

Have a little trainer that wants to be Ash Ketchum? Have your little one 'catch' his style with this replica Ash Ketchum Cap that is perfect for your little Pokémon GO player!