Top Christmas Toys US 2016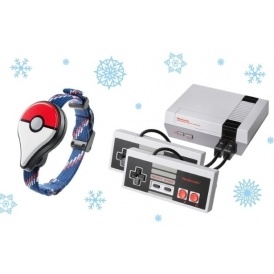 Looking for what Christmas Toys will be at the top of every kids list for the 2016 year? You're in the right place! We've scoured the web high and low to find which toys will be the most popular this year and we're staying ahead of where to find them at the best price.
You may want to bookmark this page, as soon as these toys are released the most popular toys will be hard to find and cost an arm and a leg on eBay so bookmark us check back, we will add toys depending on demand and get you the top toys and the best price!
1. Speak Out Game
Speak Out is already sold out everywhere. If you're looking for a place to find out where it's in stock, here's where you can find Speak Out in the US. Luckily there are some selling on eBay for only $25 so check them out here.
It's also on Ali Express for $23 as long as you don't mind waiting 10-15 days for shipping.
2. Hatchimals
These little eggs have been highly anticipated for months now! Hatchimal eggs are in high demand and if you're looking for where you can pre-order yours check Hatchimals stock levels here, the nice thing is you can pre-order them to lock in so you get one by Christmas.
3. Furby Connect

The furby is back! In an all new internet-based way! The new furby can speak both Furbish and English, it also reacts to stroking, shaking, tickling and much more. Oh and did we mention this one actually comes with an off switch?
Grab one from Target for $99, from Amazon for $88 or Toys R Us for $99.
4. Nintendo Pokemon Go Plus
With the Pokemon craze this year, you can be sure Nintendo's new Pokemon Go Plus device will be at the top of many little trainers lists.
Right now it's out of stock in most places, so make sure you keep up on Pokemon Go Plus stock levels here, so you can score one from a major retailer for $35 as opposed to 75+.
5. Selfie Mic

We all know a little rockstar this would be perfect for! The Selfie Mic is the perfect gift for the next american idol in your household that comes with an adjustable selfie stick, a karaoke microphone, an earpiece and the FREE StarMaker app.

Not only can you sing, lip sync, record and share but you can actually make your own music videos.

Grab one from Target for $24.99, from Toys R Us for $24.99, or from Amazon for $19.99.
6. Nintendo NES Classic Edition

Not released yet, but soon to be the Nintendo Classic Mini is going to be a big hit with kids that love to game (and gaming moms for that matter).
Pre-orders have been through the roof and there is a huge demand on these systems but prepare for the release on November 11th.
These will be releasing at Best Buy on 11/11.
7. Paw Patrol Air Patroller
The perfect gift for your little Paw Patrol fan Paw Patrol Air Patroller is going to be a best seller for a reason and it's going to be harder and harder to get as we get closer to Christmas.
Grab one now before the demand comes at Target for $34.99, at Walmart for $28.88 or at Toys R Us for $31.99!
8. Paw Patrol Zoomer Marshall

Get your little one ready for the ruff-ruff rescue with this interactive pup they will just love! He walks, he talks and he's ready to save the day!
Score one from Toys R Us for $70, Walmart for $70 as well or from Target for $70 too!
9. Furreal Friends Torch My Blazin' Dragon

We love these cute little dragons that will be a hit this year! With over 50 sound and motion combos these little dragons blow mist that changes color and the kids get an absolute kick out of it!
Totally worth grabbing for a little dragon lover!

Score one at Amazon for $59, at Walmart for $69 or at Toys R Us for $80.
10. Snuggles, My Dream Puppy

Little Live Pets Snuggles My Dream Puppy's face moves and breathes when he falls asleep, can be fed and laid down to sleep!
Talk about the perfect toy for a child that's been crying for a puppy! Get one of these and you won't have to do all the work, plus they are super cute!
Grab one for $54.99 at Toys R Us, $49.99 at Amazon or $54.99 at Target
11. Pokémon My Friend Pikachu

With how popular Pokémon has been this summer, expect the Pokémon My Friend Pikachu to be a hit this year! Kids can snuggle with the most cuddly Pokémon Pikachu and watch as his ears move, his cheeks light up and he makes cute sounds (that I've been hearing them say all year).
Grab one for $29.99 at Toys R Us, or for $29.90 at Amazon.
12. Num Noms Lip Gloss Truck

The Num Noms Lip Gloss Truck is totally fun and won't cost a fortune! These toys are too cool, personalize your taste and create custom flavored lip gloss like soft serve ice cream. You can even add toppings. How cool!
Grab it from Amazon for $27.99, from Walmart for $27.99, or from Toys R Us for $32.99.
13. Pokémon Z-Ring Set

We love these Pokemon wearables. And with the game being so popular, so will the Z-Ring Set. Insert a Z-CRYSTAL into the Z-RING and experience the Z-MOVE at the same time it appears in the game. Very cool!
Score one from Gamestop for $32.99 or Toys R Us for $29.99!
14. Fisher-Price Think and Learn Code-a-Pillar Toy

We totally love this Code-a-Pillar Toy!
By tinkering with the code a pillar your child will put together sequences with 9 easy to connect segments that help you code a pillar move forward, left, right or any way you want your little toy to go!
Grab one from Amazon for $39.99, from Toys R Us for $49.99 or Target for $49.99!
15. Shopkins Happy Places Happy Home
Shopkins will be a hit again this year, with the Shopkins Happy Places Happy Home kids can collect and decorate Popette's home with all the Happy Places Petkin furniture they wish. Looks like it'll be a hit this year!
Grab the Shopkins Happy Places Happy Home from Toys R Us for $29.99 or from Target for $29.99!