2-Pack Behind The Neck Earmuffs FREE @ Tanga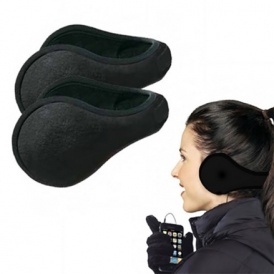 Hop over to Tanga where right now you can score a 2-Pack of these Fleece Earmuffs for FREE - just pay the $4.99 shipping fee! These same earmuffs are $8 at Amazon!
On the days when I'm not worried about my hair getting messed up, I'm usually wearing a headband or beanie to brave the cold. When I've actually taken the time to fix my hair the last thing I want to do is mess it up under a headband or hat.
So these are my go-to earmuffs because the behind-the-neck design doesn't muss up my hair in the process. You can choose from black or an assorted color pack.
Plus they're unisex and adjustable so your 2-pack could take care of you and the hubby no matter how big his melon is. And I mean, they're free. So you aren't going to find them much cheaper than this.
I ordered a 2-pack for my husband and I and then ordered a second 2-pack for the kids separately. It's always good to have plenty of cold-weather accessories on-hand. I even keep spares in the car.

But these are selling fast though so you'll want to head over asap to get yours before they're all sold out.