Starbucks Launches New 'Unicorn Frappucino'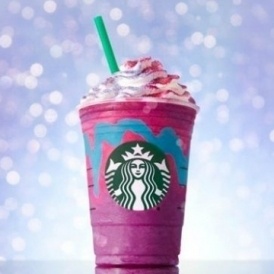 Starting today, April 19th Starbucks is offering a new 'Unicorn Frappucino' and people are starting to go nuts about it.
The Unicorn Frappucino will only be available for a limited to so get to your local Starbucks and grab one while you can.
From April 19 through April 23, you'll be able to get a Unicorn Frappucino at participating Starbucks locations across the US.
The Unicorn Frappuccino is a blended mix of pink powder, mango syrup and a sour blue drizzle and has a Crème Frappuccino Base. It's also topped with whipped cream and rainbow sprinkles for the full Unicorn experience.
This thing has gone crazy on social media over the last few days. Some think it's a little costly for a limited time drink and others are thankful the Unicorn Gods have blessed them with a Unicorn Drink.
I plan on giving it a go, see what all the fuss is about. Do you plan on trying the new Unicorn Frappuccino? If so come back and let us know what you think!