12-Pack Mystical Fire Flame Colorant Variety Pack Just $9 @ Groupon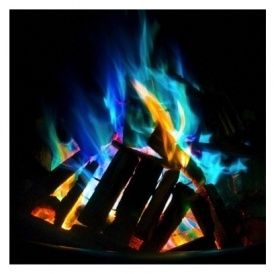 These are so cool! Head over to Groupon where right now and thru today only you can get this 12-Pack of Mystical Fire Flame Colorant Variety Pack for just $8.99! It's regularly $15. Plus get free shipping on orders of $35 or more.
I love the fall and my favorite part is a crackling campfire or bonfire with friends. If you have any plans for camping in the next few weeks or just getting together in the backyard for a little bonfire action, this is sure to be a hit.
We used these over the fall last year and the kids thought it was just the coolest thing. And if you have an indoor wood burning fireplace these can be used indoors too!
Change the flame colors of your fire from vibrant blues to greens and more. Each pouch will last almost an hour (usually around 40 minutes) and it makes for a great eye catcher. So plenty of time to get everyone's attention.