13-Gallon Automatic Stainless-Steel Trash Can ONLY $31.99 (was $95) @ Rakuten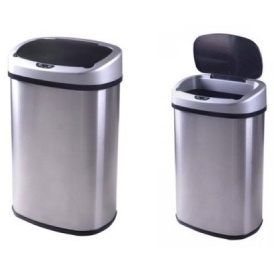 One of our favorite deals is back, for a limited time, hop over to Rakuten where they've marked down these 13-Gallon Automatic Stainless-Steel Trash Cans to $39.99 plus when you use promo code FLASH20 the price will drop to just $31.99.

Even sweeter, shipping is free on these bad boys!
The last time these dropped this low they sold out so if you plan on grabbing, do so quick. These are highly reviewed by the members of our Facebook group and are always a hit.
Automatic trash cans are the way to go, you really don't know how great they are until you have one. I got one thinking it would be good for keeping the dog out of the trash, but really the kids use it all the time and love it and I love that they're cleaning up after themselves.
Hurry and grab one before the promo code expires. I got one earlier this year and couldn't be happier. At $32 and free shipping how can you go wrong here.