3 for $33/ 6 for $60 Large Yankee Candles @ Yankee Candle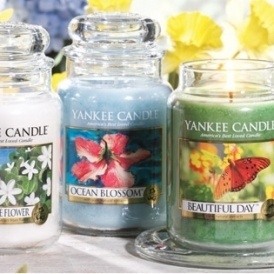 There aren't may people who don't love Yankee Candles. And right now they are having a spectacular sale! You can get 3 Large Candles for just $33! Or even better, get 6 for $60! They're regularly $27 EACH!! Plus you get free shipping on $30 or more until tomorrow!
They're having a pretty fantastic semi-annual clearance sale right now (the medium candles are only $8 each) but the deal on these candles is major so definitely head over to Yankee ASAP before they're gone because at this price they're going to sell fast!
With all of your favorite scents like Country Linen and Garden Sweet Pea, you can start stocking up now for Christmas Gifts, or just for your house.