7 Pack Meal Prep Containers With Lids Only $5.50 @ Amazon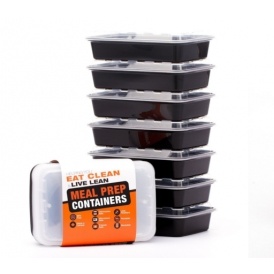 Been thinking about meal prepping or maybe your starting a diet and need containers? Either way these containers work great and are microwave and freezer safe!
Right now this 7 pack is priced at only $10.99 even sweeter there is a 50% off coupon available to clip on the item page. Making this set drop to only $5.50!
Meal prep containers make my life so much easier! Simply cook up double at dinner time and freeze half of it in these easy go-to containers.
If you need a quick dinner take them out and heat them up for an instant dinner. Plus your cooking always tastes so much better then them full of chemical TV dinners.
This also makes days that me or hubby cant make dinner super easy as we can take out a tray for each person eating and heat it up and then eat away. No leftovers and instant dinner keeps us from going and buying greasy same ol' same ol' cheeseburgers at fast food.
Thought they couldn't get any better? Think again these work perfect for dieting as well. We started a diet at the beginning of the year and now I can portion out exactly what we should be eating and freeze them for dinners later. Life just couldn't get any easier then with these perfect containers.
Amazon prime members score free shipping while non members just need to bump up your order another $14.01 to snag free shipping straight to your door.