Poly Lawn Cart ONLY $20 (Regularly $39)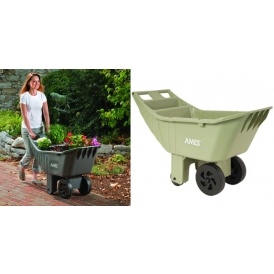 Looking to lessen the load while doing yard work? Check out this Ames 4 cu. ft. Poly Lawn Cart that Home Depot is offering as part of their Spring Black Friday Sale for just $20!
Usually priced at $39 this is definitely a steal that won't last.
I love gardening on the weekends but the biggest problem is how I feel when Monday rolls around. Back hurts, I'm moving slow. I tell people I'm in power saving mode but really I'm just hurting.
In my experience, wheelbarrows can be extremely difficult as most are heavy and hard to balance. The great thing about this Lawn Cart is it's super light and the perfect height for small gardening projects. The wagon holds steady whenever I want to turn it, unlike heavy wheelbarrows that go the opposite of where I want it to go.
Whether you love gardening or dread cutting the hedges, this is a great price for a really useful yard tool that's going to last.