Breathable Astronaut Pet Carrier Backpack $29.99 @ Amazon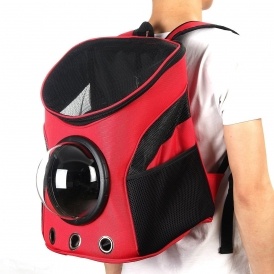 Got a pet that doesn't care much for the leash thing? Well check this out! Amazon has these awesome Breathable Astronaut Pet Backpacks for just $29.99 in your choice of five colors. Other styles are selling for closer to $40 or $50 base. Plus they come with free shipping automatically whether you have Prime or not!
If you have a little old dog that doesn't get around as well on the leash anymore but would still enjoy some trips around town with you, this is definitely a good idea. Or if you have a cat like mine who's an inside cat and will have no part of a leashed walk, this is perfect!
The beauty of this bag is that it's great for any pets that can't or don't do the leashed walks. Heck you could stuff your iguana in there and take him out with you if you wanted to!
Each of these pet carriers features big mesh air holes for plenty of breathability as well as an astronaut style bubble window so they can get a good view of the sights while you're out.
These carriers are made backpack style so you can transport your pet with ease and are made of high quality oxford cloth and food-grade PC that's scratch resistant and super durable. It even has a buckle strap inside so you don't have to worry about them getting out and getting away.
The bubble dome can also be swapped out with a plastic mesh panel too instead. You can choose from Blue, Orange, Purple, Red or Yellow. And they're all the same $29.99 price.