Deals on Prints, Enlargements & Cards @ Walgreens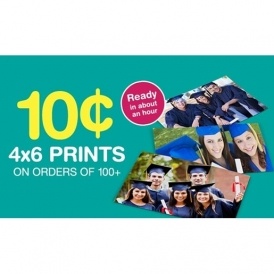 Walgreens has a few spectacular promos right now for photos!
Whether it's graduation announcements or parties or ordering prints of your spring family photos, I'm sure there's at least one deal here that could help!
If you've got a boatload of prints to order now's the time to do it! - Right now thru 5/21 you can get 10 cent prints at Walgreens with code ' MAYPRINTS100'!
Fathers Day is coming and graduation season is upon us. You can make some really cute photo gifts with Walgreens Photo like mugs, calendars, canvas prints, etc. And right now you can also snag $10 off your photo gift order of $20 or more with the promo code ' TENBUCKSOFF'!
If you're looking to make announcements for your wedding, new baby, shower, or graduation, you can also score 40% off photo cards with the promo code 'GRADCARDS'!
And if you've got some larger prints on your list or maybe looking to print out a poster or banner for your shower or graduation party, you can get 33% off posters, banners & enlargements with the promo code ' PARTYREADY'!
NOTE: On the enlargements it looks like 8x10's aren't included. Promo code is valid on 11x14, 12x18, 16x20, 20x30 and 24x36 enlargement sizes, banners and posters.