Electric Car Blankets More Than Half Off @ Amazon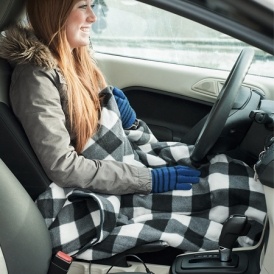 Maybe it's just me, but I pretty much need a blanket everywhere I go. Whether I'm at work, relaxing on the couch or at the kids sports games I'm always cold!
Even in the car! These genius, Electric Car Blankets are a game changer! They plug in right in the car and keep you warm on your long commute, why didn't I think of this?
We also tailgate sports games, and I'm always running back into the car to get warm. I'll totally be bringing these to the sports games so I can keep warm in the car when it's a cold one.
These come in a bunch of different colors, and are nice just to have just in case. I can see these being great for camping trips too, the only problem I'll have is fighting with the kids over who gets to use it.
With Amazon, free shipping with orders of $25 or more. Otherwise, sign up for a free trial of Amazon Prime to get free shipping on these blankets!