Electronic Pokémon Trainer Guess Game $20 @ Target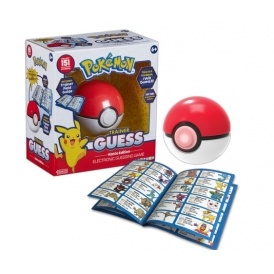 Have you seen this new game for Pokemon lovers? Its an electronic Pokemon trainer guess game and Pokemon fans young or old will enjoy it.
Plus its priced at just $19.99 and is the perfect gift to grab up now as its out of stock at Walmart and stock may get even harder to find later.
This Pokemon game is so awesome I can even see myself playing it.
It comes with the electronic Poke Ball and a field guide. The Poke Ball asks you questions and it knows exactly what you say back. The goal of the game is it to figure out what Pokemon your thinking of from the field guide.
There is over 150 Pokemon to guess and once they are guessed they go into your electronic collection. The aim is to catch them all! This is going to be the kids favorite game the second they set eyes on it.
To save on shipping opt for free in-store pickup otherwise shipping is free with a $35+ purchase.