Go The F**k to Sleep Book $13 @ Amazon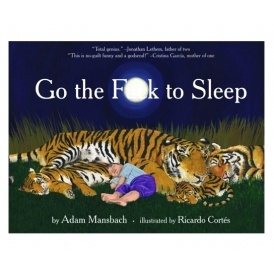 Hey it's my favorite bedtime story! Ok maybe not one I actually read to the littles but definitely one i've been rehearsing in my head for a few years now. Get this 'Go The F**k To Sleep' book for just $13.34 right now. It's regularly $15. And it's Prime-eligible.
This book is seriously hilarious and if you haven't had the chance to read it yet, you absolutely need to.
Every parent should probably own this as some sort of required item of parenting.
It helps to know that you're not alone. I swear bedtime sends these children into a frenzy of needs.
They need water, they need light, they have to pee, they're cold, they're hot, they have to pee, they forgot something downstairs, they need a different teddy, they have to pee!
The excuses never end, meanwhile you're dreaming about the ability to actually get a full night's sleep for yourself. But we all know that's a luxury that hasn't happened in years right?!
And when the wild things are finally asleep it's your chance to slip into bed and get some shut-eye too, but after that fiasco I know exactly what you'd rather do instead. Pour yourself a glass of wine and watch something above a PG-rating on TV.
They have the Kindle version priced as low as $8.99 so you can save a few bucks if you don't need it in hardcover format.
If you have Prime you can get free 2-day shipping on this hardcover. Otherwise, if you don't have Prime, you can get free standard shipping with an order of $25 or more.