Huge Gift Card Sale = $100 Cabela's $82, $25 Domino's $20, $100 iTunes $85 + More @ eBay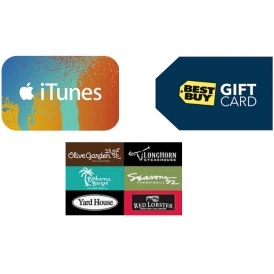 Saving big at stores we shop at often is super easy when it comes to purchasing gift cards for a huge percentage off.
Right now you can grab $25 worth of dinner at Domino's for just $20, or stock up on your music with $100 worth of iTunes for just $85, if you are thinking about the upcoming hunting season now is the time go get $100 worth of Cabela's goods for only $82.
My favorite part of buying gift cards super cheap is you can still use coupons with your purchase as well! This makes hundreds of scenario's possible.
We also spotted more great buys including $60 at Olive Garden or Red Lobster for just $50. Or plan ahead for the holidays and grab a $150 Best Buy gift card and score a $15 eBay gift card free!
There is so many on sale right now that we cant list them all but with savings this high you will surely find something you can use and with free shipping you are going to save a ton.