Light Up Rechargeable LED Shoes $10 (Adult Sizes) @ Amazon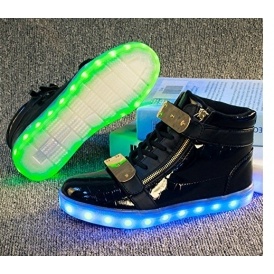 Why should kids get all the fun stuff? Now you can join them with these awesome light up shoes! They are even rechargeable so the lights will last forever.
Plus right now they are marked down to just $9.99 and included both men's and women's sizes! Talk about a steal I paid $40 each for my kids a pair just like these.
Not only are these made in Men's & Women's sizes but these are perfect for tweens and teens as well.

Finding shoes for $10 hardly ever happens but finding shoes with LEDs for $10 is absolutely never going to happen again this is so super cheap that I latched on a pair for me and hubby.
Plus they are high tops so they would be perfect for basketball as well as just everyday styling I can see me outfiting these with just about everything in my whole closet with ease.
Amazon prime members snag free shipping while non members need a $25+ purchase to get free shipping. My mom bought 3 pairs to snag free shipping but the choices are unlimited