Magic Inductive Truck (That Follows A Drawn Line) Just $17 @ Amazon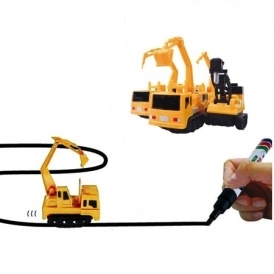 Have you seen these? Your little ones are sure to have a ball with it! Head over to Amazon and score this Magic Inductive Truck that follows your drawn line for just $16.99! It's regularly $26 or more! Plus it's Prime-eligible so you can get free 2-day shipping if you have Prime or free standard shipping with any order of $25 or more if you don't have Prime.
This is seriously cool and would make an excellent birthday or Christmas gift. I've had my eye on these but they kept selling out and they were priced way higher than this too so not sure how long it'll be available at this price.
The way these work is that it comes with an inductive marker that, when you draw any line or shape, the batter-powered truck will follow the line! Sort of like a self-made railroad track for their truck. How neat right?!
This set comes with one car (could be one of four styles that are selected at random), the magic pen, 4 button cells, instructions, white paper and a screwdriver which you'll need to insert the AG 13 button cells. You can check out a video of this thing in action here.