No More Bedtime Monsters Room Sprayer $5 @ Etsy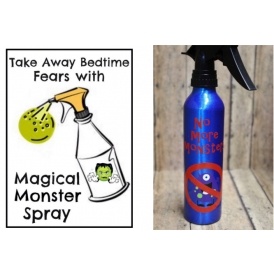 Waking up to my children screaming or diving into my bed was starting to make me go insane. I knew I had to do something and that's when I found this monster spray.
Now we simply spray down the room before putting the kids to bed and even leave the bottle in their room and sleep soundly all night. Plus right now its priced at just $5 and only $2 extra for shipping!
This bottle is full of magic! At least it is in the kids eyes I simply place water in it with lavender essential oil for a calming effect and have never slept better since.
Once I told my sister about this awesome bottle she had to have one too and she places just plain water in hers and the my neice and nephew thinks its just as wonderful.
These come in several different color options and the best part they are refillable and you can use them over and over. The decal is also wonderful and not made of paper so no worries about it getting wet and coming off.
If you have a child scared of the dark, closet or under their bed then you definatly should grab up one of these and worry no longer. Plus since they are on sale right now and only add $2 for shipping you absolutely cant go wrong.