Ozark Trail Big and Tall 2-Seat Bungee Swing Only $45.24 @ Jet.com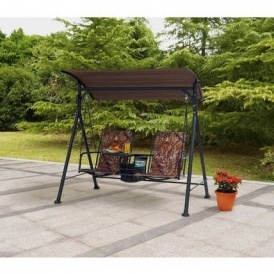 Woah, quick hop over to Jet.com where they have these Ozark Trail Big and Tall 2-Seat Bungee Swings marked down to just $57.14 plus when you use code GARDEN20 at checkout you'll get this price down to just $45.24 for this swing!
EDIT: These are going in and out of stock at Jet.com, but we found the same exact swing at Walmart who price matched it to $57.14 which is still an amazing deal!
With the weather changing, what better little swing to add to the back patio than this one? This thing checks all the boxes, it's cozy, it swings, it has extra compartments and tables for breakfast on the patio, but honestly I'll be using mine for coffee and wine! To me there is nothing like going out back and enjoying your cup of joe to get the day started.
The promo code GARDEN20 is 20% off garden and patio furniture through 9/26! Even sweeter, shipping is free on these too making this deal even sweeter!