Paw Patrol My Size Lookout Tower w/ Exclusive Vehicle, Rotating Periscope & Accessories Now $90 @ Walmart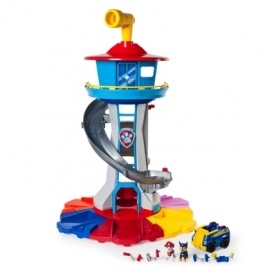 If you have a little Paw Patrol fan in your house, we just spotted a $10 price drop on this new Paw Patrol My Size Lookout Tower with Exclusive Vehicle, Rotating Periscope and Lights and Sounds at Walmart! It's priced at $89.99 right now (regularly $100). Plus, even better, the shipping is free too.
I love having a circle of friends who know just as many animated cartoon characters and their songs as I do. Paw Patrol is one of those shows for me because our daughter loves it. And she's going to love this Lookout Tower too!
This thing stands over two-and-a-half feet tall so it's just the right size for them to enjoy big fun. It's got all the interactive lights, authentic sounds, popular Paw Patrol phrases from each character and a ton of other features and accessories.
There's a vehicle launcher too so they can send the pups on their missions in Adventure Bay by just loading any Paw Patrol Basic Vehicle into the launchers empty parking spots.
The Tower has a periscope so they can scout for trouble all around Adventure Bay and when there's trouble, slide Chase down the power slide that has a unique flip feature on the slides end shoots him up into the air, then straight into his police truck available exclusively with this set.
Once Chase is in his truck they can use the rotating vehicle launcher at the tower base to aim and launch him straight into the action. And if they need backup, Marshall is ready for a ruff, ruff, rescue too. Just send him down the working elevator and snap on his pup pack (which he stashes in the backpack storage area) and he's ready to go too.

You can also score this Lookout Tower at Amazon for the same price right now too. They both come with free standard shipping so basically the only difference would be if you have Prime and want to upgrade that to free 2-day shipping instead. Otherwise, if it's a Christmas gift and you're not in a hurry, you could get it from either place for the same price and shipping offer.
But there's no telling how long this discounted price will be available at either location since prices can change at any time.