Princess Bride Opoly Board Game $35.99 Shipped @ Amazon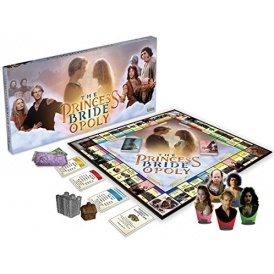 Looking to get a little nostalgic at your next game night? Well head over to Amazon where you can score Princess Bride Opoly Board Game for just $35.99! It's selling for $45 elsewhere (like ThinkGeek). Plus even better, the shipping is free too and you don't even have to have Prime to get it!
You want a board game that brings all of your favorite Princess Bride characters to life? As you wish!
You think you're going to get beaten by the Deadly Fire Swamp? Inconceivable!
Are you coming back for revenge against the loss of the last game night? I am Inigo Montoya...
Seriously I could quote this movie all day. Who doesn't love The Princess Bride? If you grew up with this movie, your childhood was awesome. And you've probably already shared the magic with your kids so they can love it too.
Now you can bring all that fun right to your game table. This board game features all the great monopoly schematics but with a Princess Bride theme throughout.
This game is great for fans both young and old with tons of movie quotes and images straight from your favorite scenes. You can sale across the Shrieking Eel waters, tread the deadly Fire Swamp and storm the castle, buying up properties all along the way and building them up with cottages and castles to collect Florins from your fellow players.
This would make a great gift idea for a fellow Princess Bride junkie too! Stock is limited though so you'll want to grab yours quick while you can!