Rotating Musical Birthday Candle $2 @ AliExpress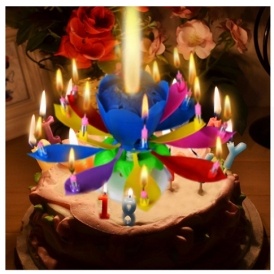 Whoa talk about a birthday to remember this candle is absolutely stunning and will have everyone mesmerized as it rotates and plays a birthday theme song and at only $2 what a score!
This has got to be the coolest birthday candle I have ever seen. In fact so much Im ordering every birthday party this year one. Were all have our own musical special flower.
This candle is easily lit. Simply light the middle and it opens up as it rotates and starts your special birthday theme song. This candle will surely be the talk for years to come.
This neat-oh candle is available in multiple colors for you to choose from. Perfect that that special someone or even yourself!
To top off this amazing deal you also get free shipping! You wont find a deal like this again.