Round Up Of Where To Score Free Ice Cream For National Ice Cream Day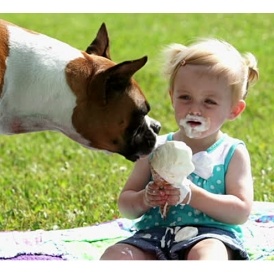 I scream! You scream! We all scream for free ice cream!
Today, July 16 is National Ice Cream Day and we have the round up of restaurants that are serving you free or cheap ice cream to keep all of you ice cream loving mommas happy!
We look forward to this day yearly and the kids call it our ice cream loving tradition. We totally love going from ice cream place to ice cream place getting all the great deals. Ice cream for dinner? Why not?
Now why keep you all waiting here is our list that will have you eating ice cream all day long without feeling guilty.
1. 16 Handles
Score a free 4 oz. ice cream or fro-yo on 7/16

2. Carvel
Has their delicious soft serve cones or cups in vanilla, chocolate or oreo for buy one get one free on 7/16

3. Cheryl's
Score $5 off sitewide with code SWEET5 until Sept. 30

4. Cumberland Farms
Score yourself a free Farmhouse Premium ice cream sandwich with purchase of a 20oz Pepsi or Mountain Dew until Sept. 6

5. Dippin Dots
This is absolutely one of our favorite and you can score a free mini cup of Dippin Dots on 7/16! Valid during a 2 hour window, so check your location about their giveaway time.

6. Friendly's
I love donating and today Friendly's makes it easy they're donating $2 from every $2.99 spent to the Boys & Girls Club of America

7. Hoffman's Chocolates
You havent had a great ice until you ate here and they are BOGO free on their cups and cones on 7/16

8. Krystal
Want ice cream everyday? Then Krystal's has you covered with their 99¢ sundaes until 7/23
9. Mcdonald's
Mcdonalds cones are awesome and they are free with the McDonald's app on 7/16

10. Monkey Joe's
This place is doing awhole celebration for every family that needs something to do today head on here for free ice cream, prizes & giveaways on 7/16

11. PetSmart PetsHotel
We cant forget about our fur babies they can score free ice cream sundaes for at participating PetSmart PetsHotel locations on 7/16

12. Sub Zero
This is a deal your want to be quick on as it only lasts for a few hours but is amazing! You can score BOGO free Sub Zero Nitrogen Ice Cream from 2-6pm on 7/16

13. Velvet Ice Cream
If you have one of these in your area you are in luck as my mouth waters just thinking about the single dip sugar or cake cones and today for only $1.

14. Wendy's
I have done snagged up a couple of these this summer and still plan on devouring somemore as they have $0.50 frosty's all summer long.
15. Your Pie
Your pie isnt everywhere but if your lucky enough to have one then head on over for free gelato all day on 7/16
16. Kroger
My absolute favorite deal today has got to be the Kroger Deluxe ice cream (48oz) and 12 count ice cream sandwiches for just $0.99! With a limit of 5 per customer I guess they didnt know I have 2 Krogers as I got 10 for a summer full of ice cream dourness.
17. A&W
You cant go wrong with A&W and today you can score a free regular shake with the purchase of an original bacon double cheeseburger.
18. Denny's
To end the day of eating ice cream all day we came here and snagged up a free banana split with the purchase of 2 entries. We shared it to end the day of pure tastefulness.
There you have it, talk about a sugar rush that is to die for. Try your favorite and come back to let us know what it is in the comments below.