Rubbermaid Custom Closet $76 @ Amazon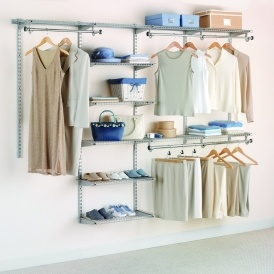 Hello beautifully organized closet! I wish I would have had this for my daughter's closet when she was a baby as opposed to her standard closet with one hanging bar and one shelf! Think I'll make up for it by getting it or her now...And getting one for myself too! :)
Right now if you head over to Amazon you can get this Rubbermaid Configurations 4-8' Custom Closet Deluxe Kit in Titanium on sale for just $75.99. Plus Shipping is FREE!
This kit is normally $86.24. And fits any walk-in or reach-in closet with at least one wall 4-8 feet wide. It has telescoping rods with expanding shelves that adjust to add 20' of shelf space and 12' of hanging space! All mounting hardware is included for easy installation with no cutting necessary.
Kit Includes:
(7) 26" Shelves
(2) 48" Shelves
(2) 48" Top Rails
19 Brackets
(5) 47.5" Uprights
(2) 25" Upright Extensions
2 Hang Rods
Also there's over 1600 near perfect consumer ratings on this particular kit too so you know other moms are loving theirs!