Save Half Off This ALEX Toys Artist Studio Super Art Table With Paper Roll @ Amazon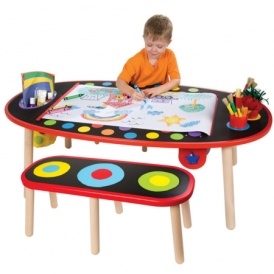 Whoa this ALEX Toys table is so awesome and no need to take just our word as it made Dr. Toy's "100 Best Children's Products" and is a Oppenheim Toy Portfolio's "Platinum Seal" Award winner!
Even sweeter right now this awesome table is half off! We have never seen it drop this low until now and now you can grab it for only $87.99!
You can bet your getting quality when you buy from ALEX toys, we bought this table 3 years ago now and it has held up great though all my kids punishments and they still use it just as much as day 1.
It includes the table, 2 benches, 100ft. hanging paper roll, paper cutter, canvas storage bin, 3 removable storage cups, assembly tool and all the hardware to put it together.
Not only is this great for at one but its perfect for child care or even preschool. We love ours so much and every kid that comes over falls in love with it as well.
Plus to top it off it ships completely free for both Amazon prime and non members! This deal is so awesome it surely wont last long.