Shower & Bath Wine Glass Holders $10 Shipped @ Amazon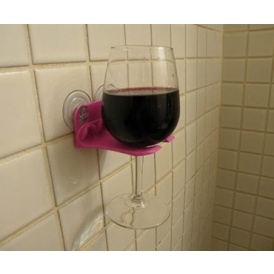 If you don't own one of these, you're not doing it right. These shower & bath wine glass holders are a must-have for every wine loving mommy.
These bath wine glass holders come with 2 suction cups for easy securing it to the wall and enjoying a refreshing drink while you bathe. Right now they're down to just $10 each on Amazon which is a great price!
I grabbed one of these last year and I never looked back. They're sturdy, the suction cups work flawlessly (haven't taken mine down since I got it) and I can seriously say I've used it a ton and really think it was a great buy.
There is nothing like taking a relaxing bath at night, reading a magazine and having a glass of wine. I used to do this but I'd put my wine glass on the side of the tub, kind of risky if you ask me.
These wine glass holders take the worry out of possible spills and broken glass and let you enjoy your bath and glass of wine!