Sumo Bumper Boppers Only $12 @ eBay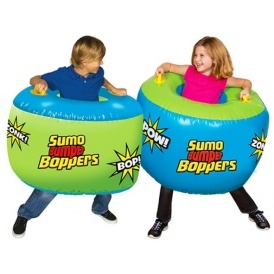 This blows pillow fighting out the window. You simply blow up your sumo bumper and get bopping the goal is to knock your oppenent out of the circle and wow is it a laughing good time.
Right now these sumo bumper boppers are only $12.26 and even include free shipping!
We bought the kids this over the summer and it is so much fun that even this momma has played with the kids too.
There is nothing like bumping your family its super fun and super halarious. We simply drew a chalk circle in the driveway and try to bop the other one out of the circle. But you can use so many different alternatives for the circle and its also fun just to play bop and run.
These would make the perfect gift to shove under the tree. Plus you cant go wrong with the free shipping included. We love our sumo boppers so much Im buying some extra for when my neices and nephews come over.