Turn Off Your Straightener Door Mat $11 + Free Shipping @ Amazon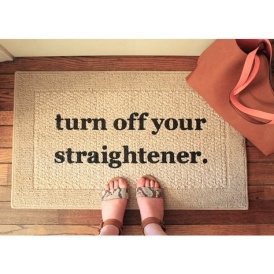 .Every house with teenagers need this mat! Oh who am I kidding I need this mat as well. This will help everyone remember to turn off the straighteners in my house and I wont have to wonder.
Plus its priced at just $10.99 plus free shipping for both Amazon prime members and non members.
I always get half way to where we are going before I start thinking about did I check that the straighteners were off. I've even been known to turn around and check.
No more worries for this momma, in fact Im buying 2. One for the bathroom and one for my daughters bedroom. This has to be the next best thing since the straightener itself.
A simple reminder is all we need to make sure that everything is off and put away. I love this mat so much already and I cant wait to get them. Plus with the free shipping there is no way to go wrong with this awesome find.