On the hunt for a Walmart Grocery Promo Code? You're not the only one, we've given the new service a try and love it and encourage everyone to give it a go.
If you're looking for a Walmart Grocery Promo code, the process is super simple.
All you have to do is invite a friend who has never used Walmart Grocery and once they've ordered you'll score an exclusive $10 off $50 promo code for doing so!
If you've been wanting to try out Walmart Grocery, what better way to do it then get $10 off $50 on your first purchase, it's really a no brainer.
Walmart Grocery Promo Code
I was wanting to try the new Walmart Grocery service, but with anything I'm buying online I was on the hunt for a promo code to give it a try.
Then I stumbled upon Walmart's Buddy Up page where you can invite a friend to try Walmart Grocery and they'll give you an exclusive Walmart Grocery Promo Code for doing so.
First go here and sign up for Walmart Grocery
Then visit the Buddy Up page and invite a friend who hasn't used the service
Once they've made their first order you and your friends will get $10 off $50 promo code
Walmart Grocery Referral Code
Since I realize that to get a Walmart Grocery promo code all I had to do was invite my friend, I decided to invite my sister. She always wanted to try the service and said she'd love to.
All I did was invite her, and in return I got a Walmart Grocery Promo Code sent right to me email just for referring her, and she got one too!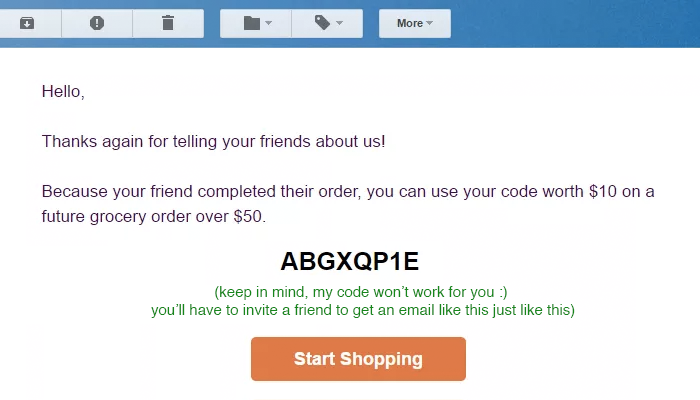 It seems in previous years they would give promo codes out just for visiting the website. That no longer works. The good news is you can still get the same Walmart Grocery promo code just by inviting friends and family to try the service!
Your turn: Have you tried Walmart Grocery? What do you think of the service? Do you think getting $10 off $50 makes the service worth trying? We've love to hear from you!