The Very Best Homemade Shower Cleaner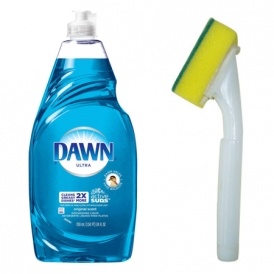 Okay mommas, the DIY Car Upholstery Cleaner got me super motivated that with a little ingenuity and a tiny bit of elbow grease I can make a simple homemade solution that will tackle even the toughest of jobs. So now I'm going to fill you in on our super simple DIY Homemade Shower & Tub Cleaner. It's seriously the best and so easy to whip up with only two ingredients that you probably already have at home anyway!
I swear by Dawn dish soap. That stuff is a miracle. But when you combine it with white vinegar you've got an ultimate shower cleaning brew that'll knock out even the worst soap scum, mildew and tub rings! So who needs to spend more money on specialty cleaners that only work half as good anyway?! Not this mama!
Here's what you'll need for this Homemade Shower & Tub Cleaner:
Just combine both of the ingredients in your spray bottle and mix thoroughly. Then spray your shower down thoroughly and allow it to sit and penetrate for a few minutes. Then you just wipe it down.
If you're dealing with a mild case of soap scum, you can probably get by with a simple sponge or even a paper towel. But if you've got a horrendous mess on your hands then you may need something with a little more scrubbing power to it to lift it all. Fortunately you can find scrub brushes pretty cheap and even scrub brushes that you just connect to your drill that do all the work for you!
Otherwise, i've found that these soap-dispensing scrub brushes work wonders because you can add a little more of your miracle solution in there to beef up your scrubbing power as you go. Plus if you just keep one in each of your showers you can do a simple wipe down with it after showering when the steam already has the troublesome areas loosened up. Then you'll never have a disgusting shower mess again!
And since the recipe is so simple and safe, you could even recruit the kids to do some tub scrubbing after their baths too! They have a blast doing it and don't even realize you're actually putting them to work! Haha - score one for mom!
But seriously mommas, if you're having an issue finding the perfect cleaner for your troublesome areas, you're probably overthinking it. I've nearly replaced all of my basic household cleaners with these less costly and much more reliable homemade remedies that actually work. And they're so cheap to make too I can't believe all the money I wasted over the years on special cleaners (and all the wine I could have bought with it instead)!