Repurpose An Old TV Cabinet Into A Kids Play Kitchen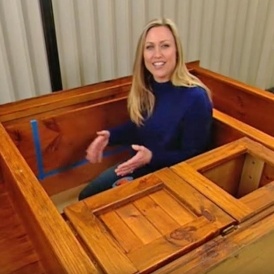 Even on sale, some bigger kids toys can be a bit pricey or out of the budget entirely. Fortunately, there's tons of great ideas out there on how to repurpose something old and done into something new and fun (thanks Pinterest). Like this amazing video that shows you how to repurpose an old TV cabinet into an awesome kids play kitchen.

In the video below, you'll watch as Tara helps her son turn an old TV cabinet into a play kitchen that we'd die for! Instead of trashing the old furniture, she gave it new life by converting it into a kitchen that would get years of play!
With just a few things around the house like CD's for the stove burners, a fresh coat of paint and a few curtains she made the perfect play kitchen, and you can too!
Ideas like this remind us that you don't have to spend a ton of money on expensive toys. In fact, with just a few things around the house you can transform anything into something the kids will love. Let your kids use their imagination during play time and give repurposing a try.
Please SHARE this with your mommy friends so they can try it too!