How to Make Valentine's Day Candy Bark (With Pictures & Video)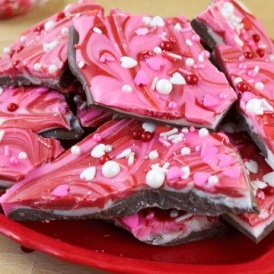 Just in time for Valentine's Day here's a sweet treat you can whip up that's sure to please!
This is a favorite DIY of ours because it's a fun and easy candy bark recipe that the kids can help with too!
This is an easy go-to for Valentine's Day treat bags.

And I can promise you this, no matter your level of expertise, this is one Pinterest-worthy DIY that you'll be sharing photos of because the finished product is so beautiful!
So we put together this quick recipe tutorial for our Valentine's Day Chocolate Candy Bark.
Here's What You'll Need
Colored Chocolate Candy Melts or Chips (we used white & milk chocolate and pink & red)
Sprinkles
A parchment-lined baking sheet
Butter Knife
Microwave & Freezer
Whats easy about this candy bark recipe is that you can melt chocolate chips, chocolate bars, or use the candy melts that are available in the baking aisle of just about every grocery store (like Walmart).
Valentine's Day Chocolate Bark Recipe
Step 1: Melt the chocolates or candy melts according to the package instructions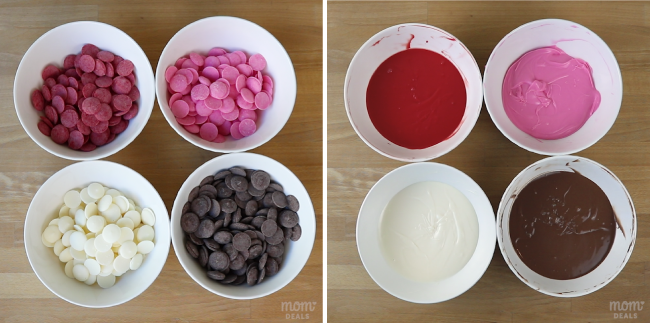 Step 2: Spread a layer of chocolate in the parchment-lined pan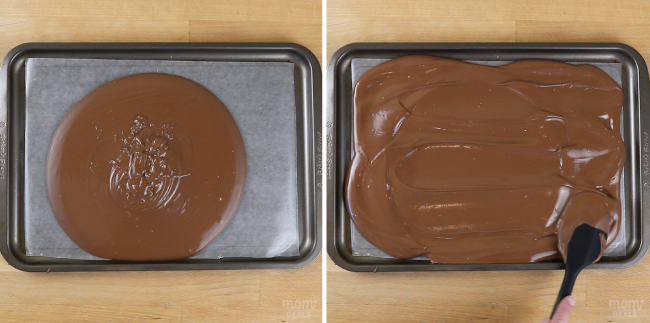 Step 3: Pour the remaining colors of melted chocolate around on top and marble them together with your butter knife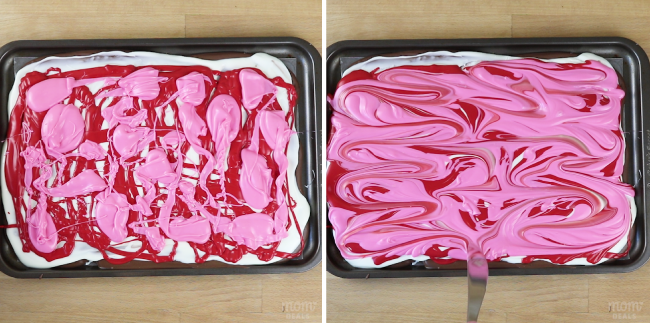 Step 4: Sprinkle the top with your candies then freeze for 1 hour.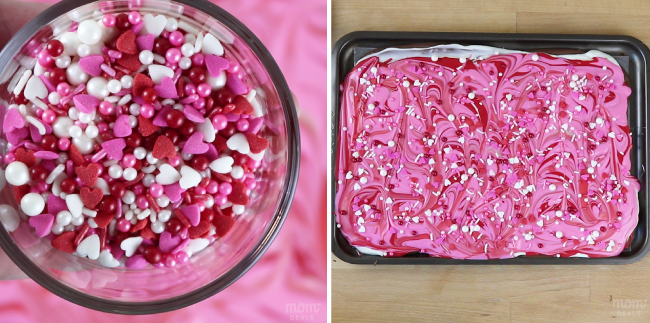 Step 5: Cover with another sheet of parchment and gently beat it with your mallet or rolling pin to break it into the bark pieces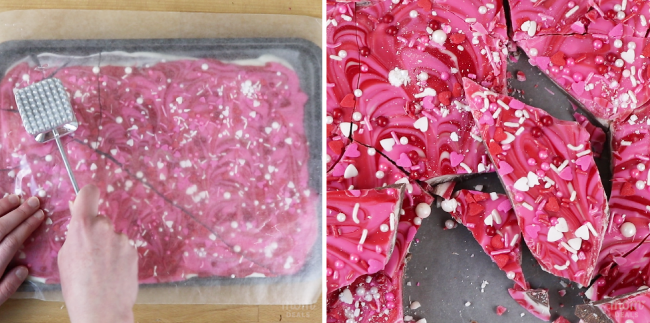 And that's it! Seriously, we told you this was super easy!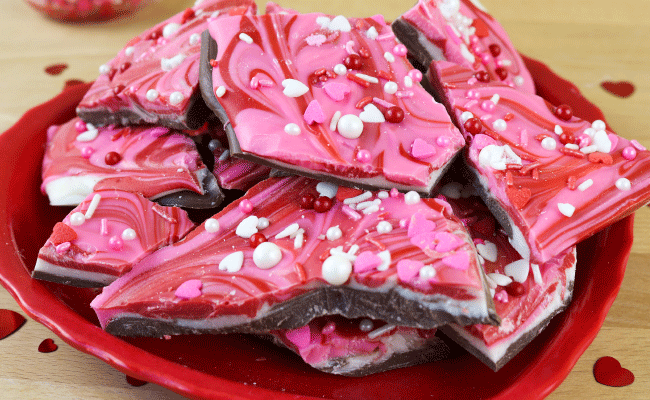 Voila! The finished candy bark is swoon-worthy.

All those pretty Valentine's Day colors are almost too pretty eat...but it's too delish not to!
This Valentine's Day Candy Bark is like Valentine's crack!

You can wrap some up to give as a Valentine's Day gift for your sweethearts, or just keep it all for yourself.
(I'd definitely consider making a double batch because you're going to want to keep some for yourself!)
You can use whatever colors or sprinkles you'd like too. So this is a candy bark that you can make anytime of the year just by swapping out your colors and sprinkles!
Christmas is another favorite time of ours to make this and it's all the same, we just add some green candy melts and crushed peppermints to the sprinkles - OMG yum!
Halloween you can add some orange melts and Halloween sprinkles. Easter, St. Patrick's Day, you name it!
Just pin or print this recipe so whenever you're looking for an easy holiday treat to whip up, you'll have it handy.
Want to see it in action? Here's a handy video tutorial for this candy bark recipe!
Fire off: Let us know in the comments if you have you tried this Valentine's Day Candy Bark recipe. What did you think?