Wine Bottle Umbrella Just $8 @ Tanga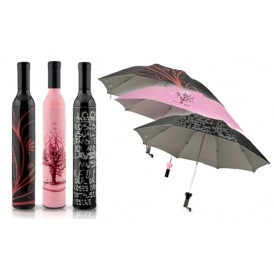 Do you know a wine lover? You gotta check out this neat gift idea from Tanga! For a limited time score these neat Wine Bottle Umbrella's for just 8 bucks! For comparison, these same umbrellas are $13+ on Amazon!
I just so happened to stumble upon this fantastic idea of a wine bottle shaped umbrella. Let's face it, when the day calls for umbrella usage, there is a good chance that a glass of wine may be in the forecast also.
There are 7 options to choose from, all beautifully designed equally. (Friends reading I would be happy with any of them!)
Maybe you're going to work or picking the kids up from school and wine time just isn't a feasible option. Well, now you can relish in the entertainment of your wine bottle umbrella.
I'll be honest, just opening this thing would change my mood. It's the little things in life and this makes me giggle.