CAP Neoprene Dumbbell Set with Rack only $17 @ Walmart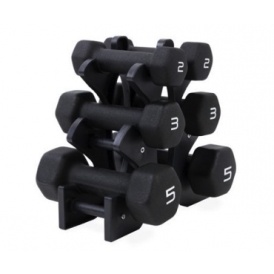 I know, I know, it's right before the biggest stuff-your-face day of the year. But you and I both know that as soon as the holidays are over, we're both gonna need a kick in the butt to get back going.
I've been looking now for some goodies to keep me on track during the holidays this year and Walmart just dropped the price on this CAP 20 lb Neoprene Dumbbell Set with Rack to just $16.99!
I'm not saying I'm going to be able to maintain my diet this Thanksgiving. I've already been searching for a good pair of leggings to wear when we're making our rounds and stuffing our faces over the holidays. So getting this set is at least a show of my commitment, right?
You can get free in-store pickup or free shipping with your ShippingPass account or any order of $50 or more.
Or, if you're a Prime Member you can score this same CAP 20 lb Dumbbell Set With Rack for $16.99 and shipping will be free!
...And just to be clear, I'm still going to stuff myself at Thanksgiving.