Create Your Disney Family & Get A FREE Custom Decal @ BuildYourDisneyFamily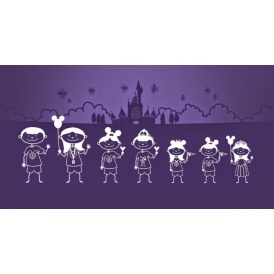 This is so neat! Disney recently launched a site where you can create your Disney Family and then they'll send you over the custom decal you created, for FREE!
This is one of those sweet freebies that is actually free, and it's super easy too. All you have to do is head over to the link above, add members of your Disney Family, customize it and you'll get a free image and decal.
I gave it a go and tried it out and it was so fun! I'm not sure if this works on mobile, but it's definitely worth a try.
You're able to customize your entire family (even your dog!) and you can unlock specific customizations just for visiting the site or entering your email. Since I'm already signed up for everything I was able to customize mine in all the ways I wanted to.
Then you can choose the background, the castle you prefer plus you can enter your family name and a cool little caption that you're able to choose from.
At the end you'll be able to download your family, or order a decal. I went ahead and ordered mine, can't wait to get it in the mail!