So you're on the hunt for ways to get ShopRunner free but realize, there isn't much info on the web...
That's why we made this post breaking down how exactly to get it free.
If you're trying to find a way to get ShopRunner free, this guide will help you.
We'll be covering everything you've ever wanted to know about ShopRunner as well as ways to get it free so you're not stuck paying for shipping!
How To Get Free ShopRunner
The simplest way to get free ShopRunner is to sign up for free.
You'll get FREE unlimited 2 day shipping for 30 days and you can cancel during your trial at any time, the ShopRunner free trial is the simplest way to get free shipping on an order quick!
Don't feel like signing up for a free trial and want a year of ShopRunner? We'll also be sharing below the best ways to get ShopRunner for free down below.
1. Free ShopRunner: PayPal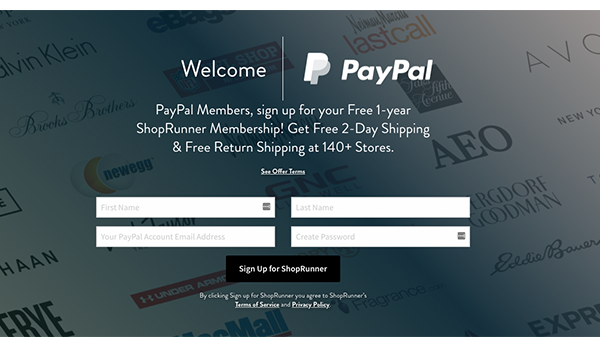 Most don't know this but, you can get ShopRunner free with Paypal.
It's a cool little perk you get when you sign up to become a Paypal member and the best part is it's free to do and unlocks free shipping for 140+ stores.
People are always asking if you get free ShopRunner with Paypal and you absolutely do, I'm always asking people who have Paypal why they haven't signed up for ShopRunner!
2. Free ShopRunner: American Express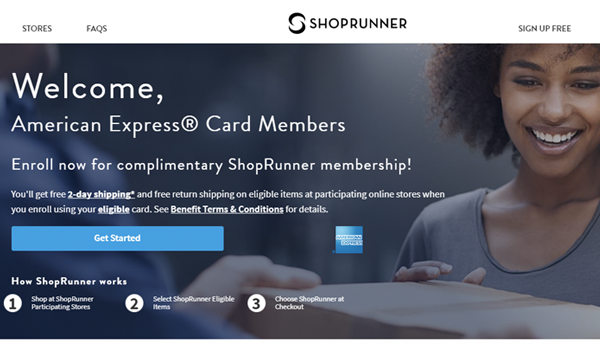 The second most popular way to get free ShopRunner in 2018 is with Amex.
American Express offers free complimentary ShopRunner membership just for being an American Express card holder. It's a neat little perk that most don't know about.
This includes free two day shipping and free returns on items from over 140 retailers just by signing up with your eligible card. It's a nice little perk that's offered by Amex that many don't know.
If you've been wondering how to get free ShopRunner with Amex it's super simple, just go over to the ShopRunner page for American Express holders, enter your email and you're now ready to start your free membership.
3. Free ShopRunner: Mastercard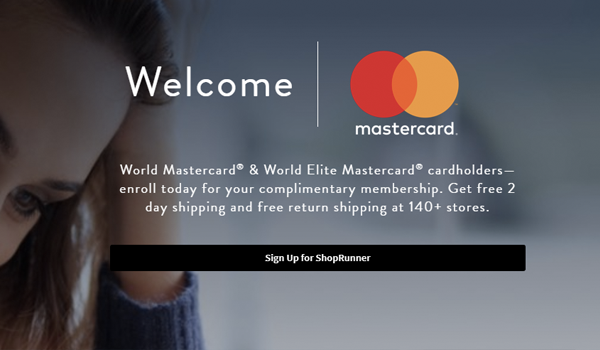 Shoprunner also offers complimentary memberships for Mastercard but the only catch is it's only available for World & World Elite Cards.
While that is still a great perk and it's worth signing up if you are a Mastercard holder, unlike Paypal and American Express Mastercard offers this perk for just Word Mastercard Holders and World Elite Mastercard holders so you'll want to keep that in mind before jumping over.
4. Free ShopRunner: Swagbucks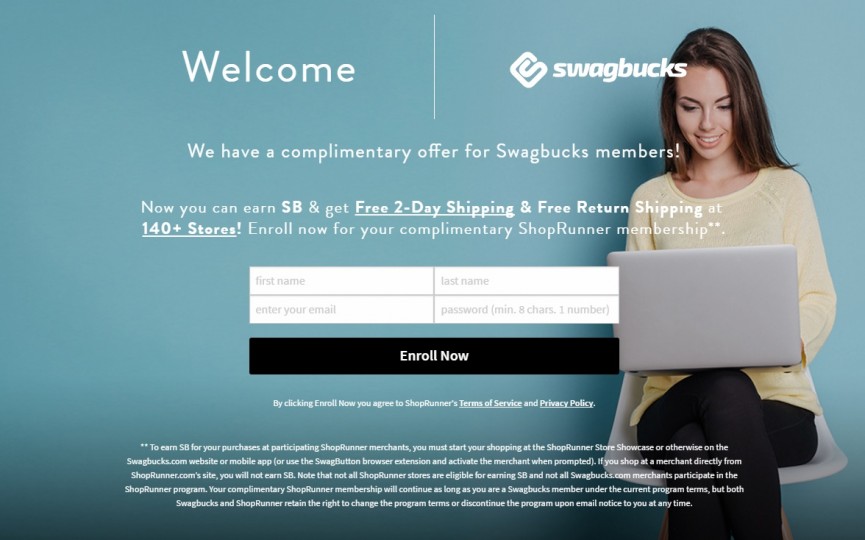 A lot of of our readers have mentioned getting free ShopRunner for years just by being a Swagbucks member, it's one of the coolest perks I didn't even know about.
It's super awesome that Swagbucks members get a free complimentary 1 year membership to ShopRunner just by being part of Swagbucks.
Not a member of Swagbucks? Go here to sign up.
5. ShopRunner Free Trial
While you might not have any cards or memberships mentioned above.
You can always go the old fashioned route of going with the 30 day free trial. While it only lasts 30 days you'll get all premium benefits on shipping with it.
It's probably the easiest way to get Free ShopRunner in 2018 without much work, especially with how common free trials are like this from Netflix and Amazon.
Once the trial ends you'll get billed for $79 for a year membership (unless you cancel it).
5 ShopRunner Answers
Is ShopRunner free?
No it's not.
There's a lot of people who aren't too familiar with ShopRunner who've asked if ShopRunner is free to sign up for but unfortunately it's not.
But there's good news:
They offer a ton of free trials and offers with other websites like Paypal and Amex to offer free shipping for shoppers who use those services.
It costs around $79 a year right now (they do yearly memberships) but luckily there are some ways to get ShopRunner free most don't know about worth trying.
Many of our readers have mentioned getting ShopRunner free one way or another so don't give up on trying to score free ShopRunner, it's worth it!
---
Related Buyer's Guides and MomDeals' Lists:
Your turn: Have you tried ShopRunner before? Did you know about all of these ways to get ShopRunner for free? Let us know what you think of the service below!