Mom Surprises Daughter At College, Ends Up In Wrong Dorm Room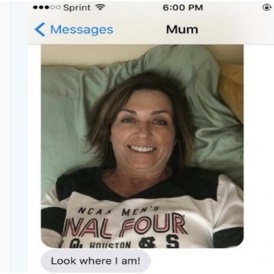 Whoa, momma!

Earlier this week at Utah State University, McKenna Pilling was packing up her dorm to get ready for summer. Her mom, Deanna decided it'd be a great idea to surprise her daughter by arriving a day early to help her pack up her dorm before the spring semester lets out.
Deanna entered McKenna's dorm, laid on the bed, snapped a selfie and sent it to her daughter along with the message "Look where I am!"
McKenna was definitely surprised, but not just because her mom came to visit. More so because her mom sent the text from THE WRONG DORM! McKenna was sitting on her bed when she got her mom's text.
Check out the hilarious screen shot below to see how it all went down.
Too funny! We've all been there!
Take a second and share your most mom-barrising moment below!