I hope you'll agree with me when I say:
Finding the best baby monitor in 2018 is hard.
Well, it's hard because its hard trying to sort out the "good" baby monitors from the bad.
Consumer reports confirm that a reliable baby monitoring system is one of the first things new parents look for and add to their registries when expecting a baby.
This is why we have created this list of Best Baby Monitors of 2018.
After researching online and spending hours testing these video monitors, we've shortlisted the best baby monitors you can buy right now.
Best Baby Monitors 2018

Several of these Baby Monitors are not for everyone as they carry a big price tag, but we'll be doing our best to round up the best picks.
We've narrowed down all the features and cool aspects of each of these best-selling and highly recommended models for you so you can make the best decision on what baby monitor works best for your family in 2018, these are our picks:

If you're going to rely on reputation, the Infant Optics DXR-8 baby monitor is the way to go.
It is probably going to be the top on just about any list of best baby monitors you stumble on with how feature rich it is and also because it's the latest technology.
It's one of the best selling Baby Monitors on the market and also a 'Amazon's Choice Item' with how many new parents reviewed this baby monitor (with around 20,000 positive reviews) and boasts a rating of 4.5 stars out of 5.
Features
Like the rest of the pack, the Infant Optics DXR-8 packs an impressive list of features:
First baby monitor with an interchangeable lens option which makes it easy to customize your view angle and the zoom.
The display has a large 3.5" with full color and high resolution it really is a great screen.
Retractable antenna on this compact unit too to give you even more reach.
Sound-activated LED display.
Remote pan, tilt and digital zoom feature which makes for easy checking.
Battery life: 10 hours on power-saving mode and 6 hours with the screen on the entire time.
One optical zoom lens is included and additional wide-angle lenses are sold separately.
The Verdict
This Infant Optics Baby Monitor gets 4.5 Stars out of 5
The Bottom Line

Pros: Easy to use, compact, good battery life, highly recommended.
Cons: Battery life is just shy of a full night with display on the whole time.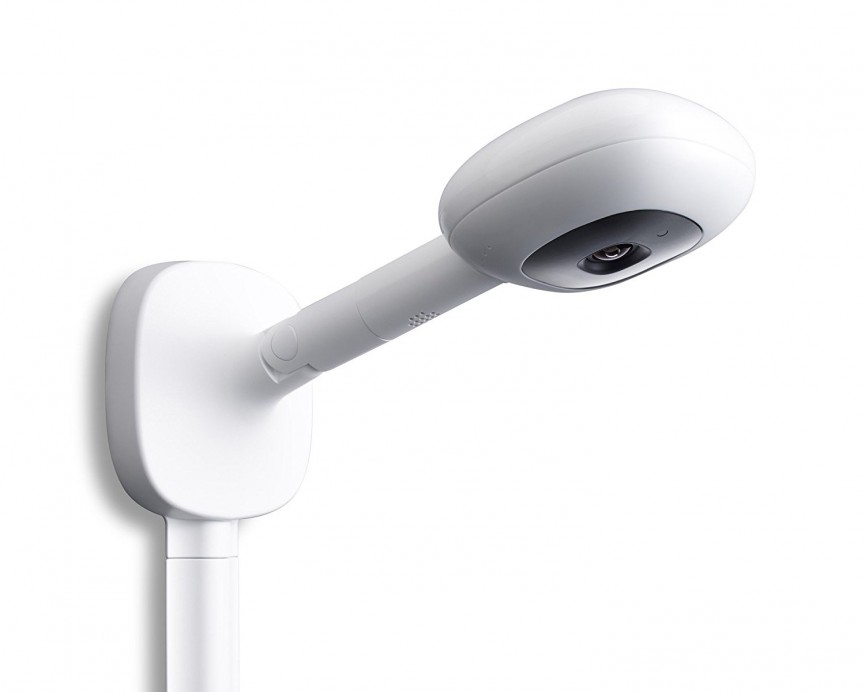 Video, Audio, Recording and Sharing capabilities make it the perfect solution for your nursery, play room or anywhere you need a second pair of eyes.

The Features
Talk about having all the bells and whistles, take a look at the out of the box features you'll get with this Nanit Smart Baby Monitor:
Has bird's eye view plus clear night vision and zoom features.
Has temperature and humidity sensors so you can watch more than just your baby but also their comfort and recommended environment.
The sound and motion alerts are in real-time with no lag so you don't miss a beat.
Remote viewing, background audio, and even a ceiling-directed nightlight.
With it's cable management system it's easy to use and perfect for multiple users.
Sharing features that let you capture and share memorable moments and milestones.
Nanit streams over WiFi when the internet is down and there are no wearables required.
The Verdict
This Nanit Smart Baby Monitor gets 4.5 Stars out of 5.

The Bottom Line
Pros: Easy to use, multiple users, tons of features.
Cons: Fixed wall mount system. Slightly higher priced but definitely a solid investment.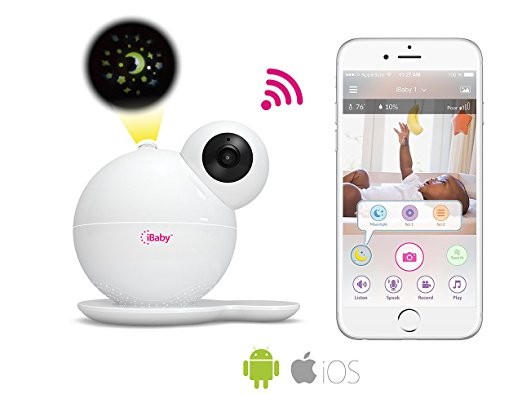 Hot on the market, this iBaby Care M7 is still making a name for itself. But trust us, it's making a name for itself!
This thing comes loaded to the gills with all sorts of excellent features that will make both mommy & daddy and baby happy!

The Features
This baby monitor has a built-in moonlight soother that projects a calming light show on the wall.
It also has a variety of music, lullabies, white noises and even bedtime stories that you can play!
It goes a step further from just watching and soothing your little one to actually teaching with its early childhood education content.
There are diaper and feeding alerts as well as a TVOC Air Quality sensor so you can be sure their environment is nothing shy of perfect...just like they are.
It has a high quality 1080p video resolution for crystal clear images.
The dual band router support makes it efficient and it's compatible with both iOS and Android systems.
The Verdict
This iBaby Care Baby Monitor gets 4.5 Stars out of 5.

The Bottom Line
Pros: Features galore! You get a monitor, soother and educational system all in one!
Cons: No split screen for multiple cameras and sound preferences do not recall when it loses power.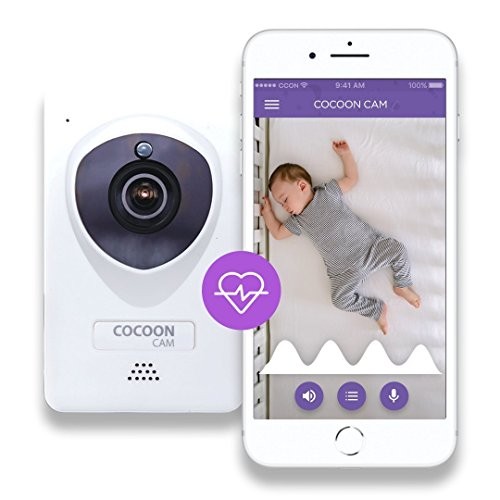 Talk about some good mentions. This Cocoon Baby Monitor has some excellent reviews and comes highly recommended by those who own it.
With so many additional worries when you put your new baby to bed, this monitor helps alleviate them not just in being able to see them sleeping soundly but also in monitoring their breathing to help with what could be fatal yet unseen conditions in the crib - breathing.
So you can breathe much easier with this one mommas. They're keeping a good watch over your babies so you can all get a good night's sleep.

The Features
First and foremost, you know that your baby is breathing properly thanks to it's real-time breathing monitor.
The breathing monitor operates without any wearables, wires or mats.
It also has clear night-vision viewing and HD video so you can see them perfectly.
You can rest easy thanks to notifications that will alert you if baby's breathing changes, they start to cry or are beginning to wake. So you can actually rest easy!
Pediatrician-validated.
The free app allows you to not only see your baby but hear them and even talk to them right from your phone!
The Verdict
This Cocoon Cam Plus Baby Breathing Baby Monitor earns 5 Stars out of 5!

The Bottom Line
Pros: Built-in breathing monitor makes momma breathe easier at night too!
Cons: So far none!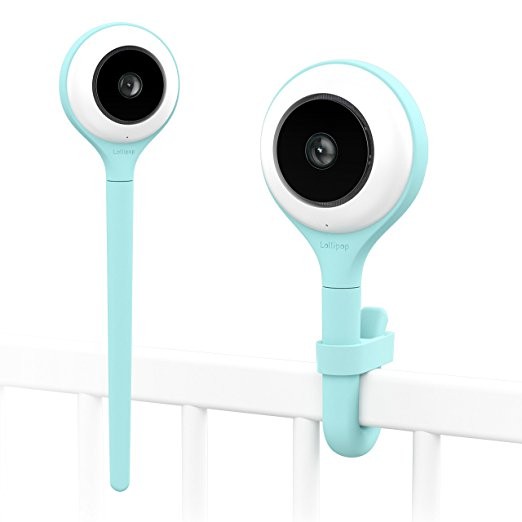 The Lollipop monitor is a cute and different sort of set up - holding true to it's namesake, this monitor actually flexes around the rail of the crib or can be stood up with support on their dresser or shelf and people love them!
You can choose from two adorable colors including Turquoise or Cotton Candy so finding one to look cute in your nursery or play area won't be a problem.
This monitor doesn't have quite the many bells and whistles some of the other similarly-priced baby monitors have but it's definitely unique and adorable and still does every bit of what you need it to do.

The Features
It's cute. Whether you choose the turquoise or cotton candy - it'll be inconspicuous and adorable with their nursery or play room.
1 second latency with a good WiFi signal.
Toxin-free, safe silicone.
They pay Cloud service fee for you!
Audio mode for overnight use and alarms while network disconnect so you can rest easy.
Crying detection that doesn't detect decibels but crying and other noises.
Clear imaging for a good view of your little one both day and night.
The Verdict
This Lollipop Baby Monitor earns 4.5 Stars out of 5!

The Bottom Line
Pros: Adorable color options and free cloud service.
Cons: The stem can be broken so be mindful of that! And customer service is not as accessible as other companies.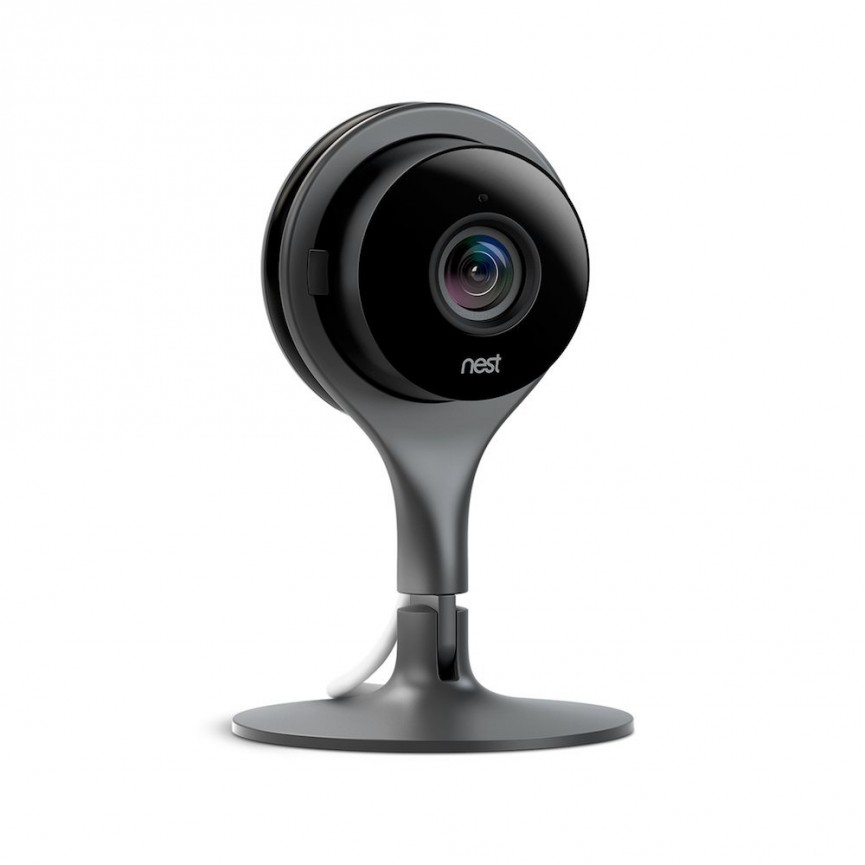 Nest has been hitting the scene fiercely lately. Between their thermostats and other home solutions, Nest has a great name and reputation to back them up.
And this Nest Security Camera is just another reason why people love them. This security camera can be used anywhere but most importantly, it makes a great baby monitor too!
This is a monitor that will be around as your kiddos grow to alert you to all things parents stay worried about long after the cribs are converted into big kid beds.
The Features
You can set this up anywhere as baby monitoring or home monitoring.
Get alerts right to your phone or device using the Nest App whenever the camera detects any movement or activity.
It also has Person Alerts and Activity Alerts so you can keep your home safe even when you aren't home!
The Nest Cam Indoor has a built-in speaker and mic too so you can hear what's happening and also speak through it - whether it's to soothe baby back to sleep or yell at the dog for jumping up on the couch while you're at work.
It's super compact and can be set up anywhere with ease. The stand can be sat anywhere flat and the cam has a built-in magnet to stick it to something metallic too (like the fridge). It also easily attaches to walls with the removable wall plate or unscrew the camera from the base and use a tripod mount.
Works with other Nest devices including smart light bulbs, washer and dryer and more. Talk about a Smart Home!
The Verdict
The Nest Security Camera / Baby Monitor earns 4 out of 5 Stars.

The Bottom Line
Pros: In it for the long haul - You can go from baby monitor to home surveillance monitor.
Cons: Not so much a baby/nursery gadget but is at least inconspicuous enough not to be noticed too much.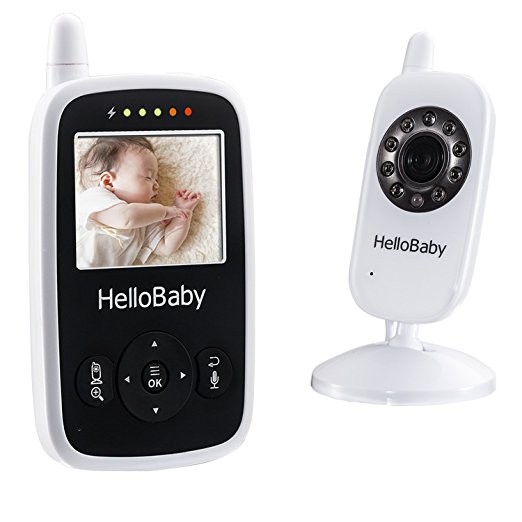 This Hello Baby Monitoring System comes highly recommended and has a ton of features that you're sure to love.
If you're looking for a great two-way system, this one is pretty hard to beat. And it even has a temperature monitor built-in too!
Added features definitely get you way more bang for your buck - which we love!

The Features
Ultimate clarity in video sound with night vision and day time.
Wireless technology that prevents signal drops and a range of up to 960 feet without barriers!
Plug and play feature makes it expandable to 4 cameras with no set up required. One parent unit monitor can be paired with four child unit cameras so you can take care of all of your kids with just one monitor!
The large capacity battery has 12 hour battery life for baby call monitoring with VOX-on (power saving mode with sound activated). It will run for up to 8 hours with screen-on.
Two way talking feature lets you hear them but also talk to them.
The temperature monitoring feature also makes sure baby is comfortable.
The camera has an optical pan and tilt feature and sound activated LED indicator with a 2X digital zoom.
It also has lullabies that will play.
Comes with a one-year warranty.
The Verdict
This Hello Baby Wireless Baby Monitor earns 3.5 Stars out of 5.

The Bottom Line
Pros: Affordable. Long battery life and two-way talk features just to name a few.
Cons: Reports that the charger may need replaced after a while of use.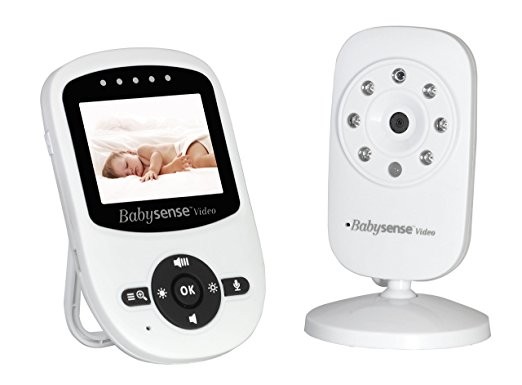 As an Amazon's Choice Baby Monitor you'll soon discover why this system comes with such great reviews.
Between stable streaming and all of the other features like two-way talking that you may not even realize you want in a monitor (but will soon find that you need), this system offers it all.

The Features
Compact 2.4" high quality LCD color display shows hi-def stable streaming and a secure connection with clear digital video and sound.
Two Way Talk Back feature lets you hear your baby and your baby hear you. Great for soothing them back to sleep when they're stirring.
It has a long range with up to 900 feet open space and also has an out-of-range warning so you'll know beforehand before leaving your little one unattended.
It also has auto infrared night vision so you can still get a perfectly clear picture at night.
Plus like some of the other baby monitors, it also includes room temperature monitoring with high and low temp alerts, Eco mode voice activation, sound activated LED indicators, alarm and timer, a zoom and pan/tilt option and expandability so you can add up to four cameras with one viewer.
It even has lullabies to sing your baby to sleep for you.
You can mount his on auto scan view, tabletop, or wall.
The Verdict
This BabySense Baby Monitor System earns 4 out of 5 Stars.

The Bottom Line
Pros: Small and compact but with all of the features
Cons: May be a bit too small (2.5" viewing screen) for some.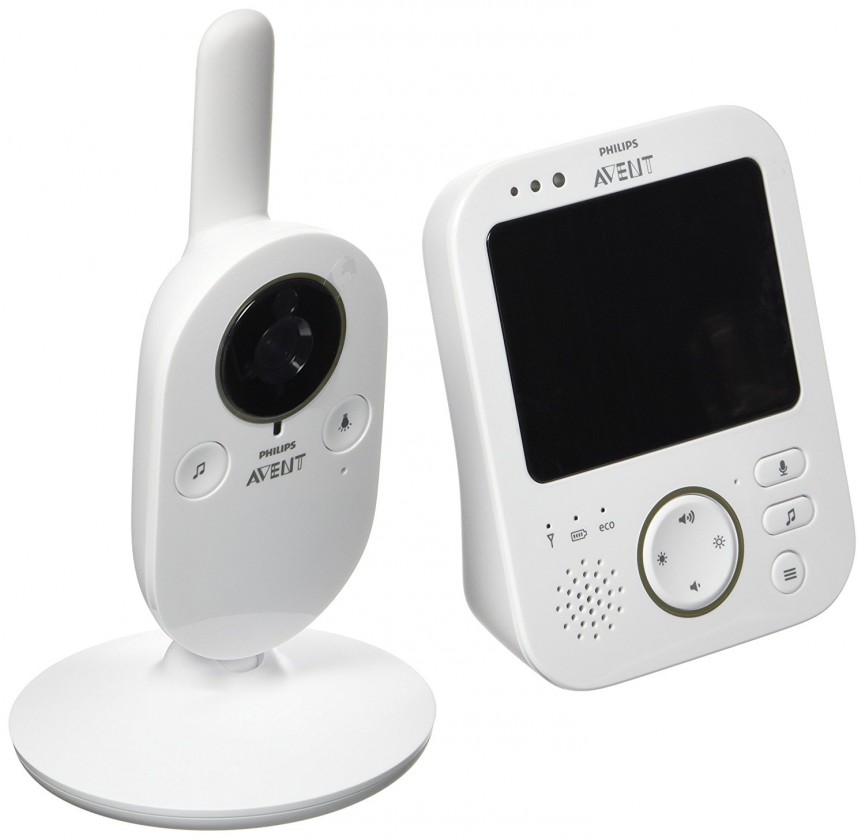 When it comes to the Philips Avent, you're basically getting the name that so many parents know and trust with their babies in a monitor. That's why it's definitely a baby monitor that so many parents recommend.

The Features
This Philips Avent Baby monitor offers FHSS technology so you get a secure and private connection.
The screen a little larger than the aforementioned baby monitor, by a full inch (3.5") and displays in full color with a high quality picture including automatic infrared night vision for a good picture day or night.
It's wall mountable as well as tabletop.
It also includes the talkback feature so you can calm your little one with your voice without getting up.
And, not to be beaten by the other features of its competition, it also has a night light and lullabies and monitors the in-room temperature.
The Verdict
This Philips Avent Baby Monitor earns 4 Stars out of 5.

The Bottom Line
Pros: All the bells and whistles from a well-known baby brand.
Cons: No app/streaming or ability to view from your phone like some brands.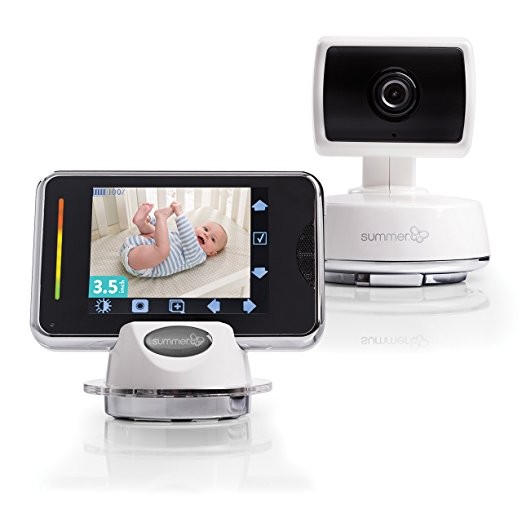 The Summer Infant baby monitor system is a highly recommended and well-loved monitoring system in thousands of households.
Plus you're getting a product made by a brand that you know and trust with your little ones from all aspects of parenthood.

The Features
A nice sized 3.5 inch portable color LCD handheld video and audio monitor.
You can pan, scan and zoom so you don't miss a single thing.
The two way communication feature lets you soothe your baby without even having to get up out of bed.
It has a good range for up to 400 feet.
Sound activated LED lights make it easy to use even in the middle of the night in the dark.
Digital technology offers a private and fully secure connection with up to 600 foot range.
It's also expandable allowing you to add up to 3 additional cameras (check model # 28060) so you can view multiple areas of the home with a single viewer.
Charging dock and rechargeable batteries with an average lifespan of 4-6 hours between charges when on continuous use.
The Verdict
This Summer Infant Baby Touch Pan/Scan/Zoom Video Baby Monitor earns 3.5 out of 5 Stars.

The Bottom Line
Pros: Sleek and stylish with all the features you could want.
Cons: Only 4-6 hours of continuous viewing in between charges.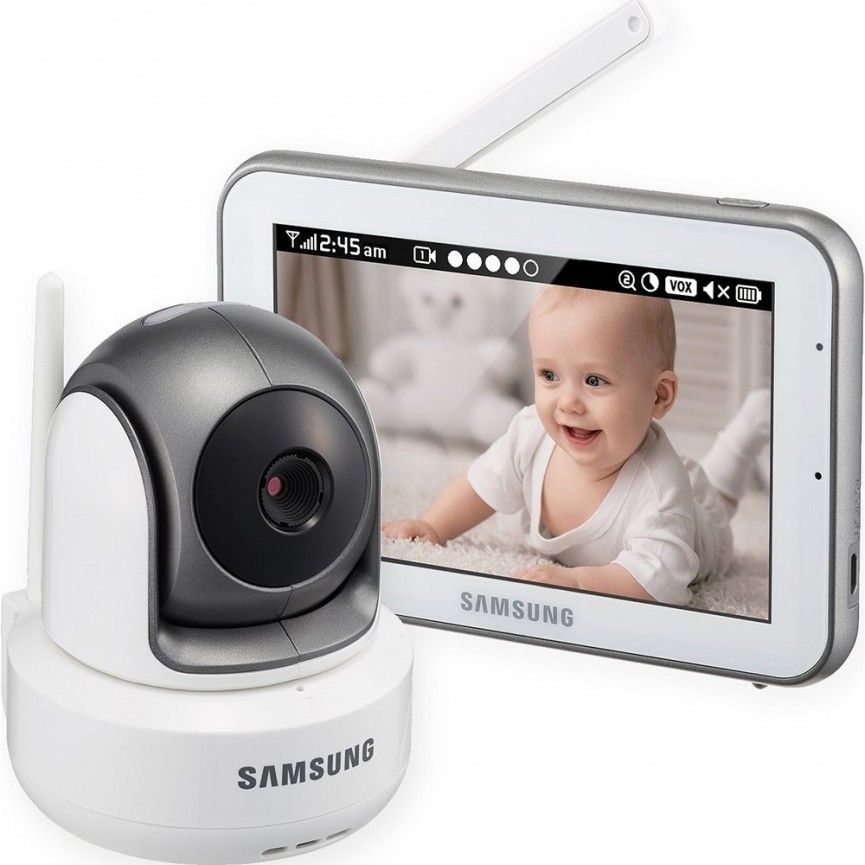 When it comes to electronics, Samsung is definitely a name that ranks at the top of the list. And this Samsung Baby Monitor is definitely a great one to consider.
From the larger than usual viewing screen (that's actually even a touch screen!) and cool look of this one, it had to make the list. Take a look at some of the bells and whistles this one offers!

The Features
5" touch screen monitor with HD viewing
It has a remote 300-degree pan angle and 110 degree tilt angle camera
Two-Way Talk with the built-in microphone has HD audio and non-visible infrared LED night vision up to 16 feet. So you can communicate with your baby and won't have to worry about any lights coming on and waking them up or disturbing them.
The calming soft night-light and comes with 4 pre-programmed lullabies.
Feed timer alerts also keep you ready for those nighttime feeding routines.
You can also add up to 4 cameras with this viewer to view multiple rooms simultaneously.
It has a long-lasting battery life and a range of up to 900 feet.
The Verdict
This Samsung Wisenet HD Baby Monitoring System earns 3 out of 5 Stars.

The Bottom Line
Pros: Tons of features and a 5" touch screen monitor!
Cons: No streaming or syncing with your phones.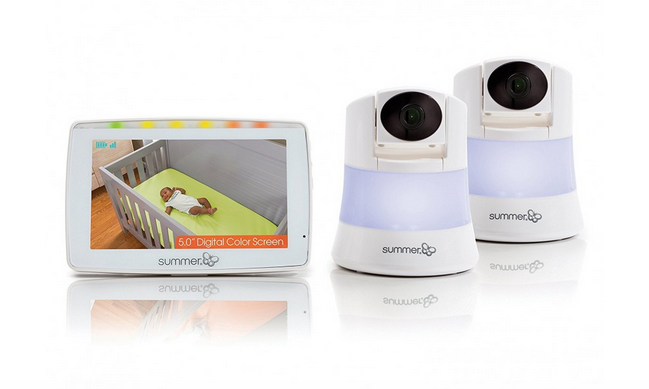 This Summer Infant Duo set comes highly recommended - especially by mommas of twins! If you have twins or want to view more than one area in the house, this system is definitely for you!

The Features
The digital technology offers privacy and security.
The high resolution LCD color video displays on a nice sized 5" screen and switches to automatic black and white video with an 800 foot range.
It also has a wide-view lens so you can see more of the baby's room or house in one shot (another great feature if you've got a little mover).
The cameras have digital zoom and also offer a soft glow night light feature to help soothe baby.
The Verdict
This Summer Infant Wide View Baby Monitor earns 3 out of 5 Stars.

The Bottom Line
Pros: Great for twins with side-by-side and split screen viewing. It comes with 2 cameras!
Cons: Battery life may be less than expected so keep it charging if you use it alot!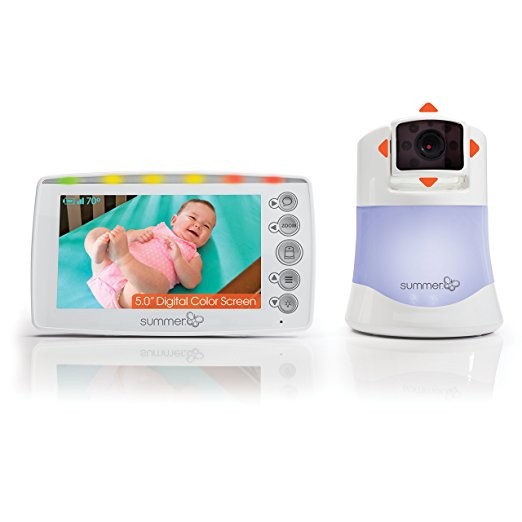 Another favorite from Summer Infant, this Panorama baby monitor is another that comes highly recommended by parents.
This system is very similar to the Summer Infant Duo system mentioned above but you're getting one camera with this one.

The Features
The same digital technology for ultimate privacy and security.
With 5" high resolution LCD color and black and white night vision display you won't miss much.
The camera on this one also has the soft glow night light feature and a red glow that helps baby fall asleep faster and a blue light to soothe them while sleeping.
It also offers remote control pan, zoom and tilt camera features so you won't miss a thing
And the talk-back feature lets you hear baby and talk to them too so you can calm them back to sleep without getting up (or to just yell at them to quit torturing the dog from the other room when they're playing during the day).
The Verdict
This Summer Infant Panorama Baby Monitor earns 3 out of 5 Stars.

The Bottom Line
Pros: Large viewing screen and panoramic high-def picture
Cons: Battery has been reported to be less than stellar at times so if you use it continuously keep it charged!
This Project Nursery set up is a pretty cool one. With a bonus mini viewer you can keep the main viewer at your bedside and keep the other with you in the other areas of the house if you're not in bed.
And it's that bonus viewer that has lead to it being one of the more recommended baby monitor models too!
But that's not all it offers, take a look at the other features you are getting with this baby monitoring system.

The Features
Nice sized 5 inch Hi-Def LCD monitor screen
You can get up to 16 hours of battery life with this one too! So well over the average night's sleep of your little one.
You can also record video and take pictures from the viewer using a micro SD card.
If you want to view other areas of the house or have multiple little ones, you can also pair this monitor with up to 4 cameras (using single, split or quad viewing modes).
The camera can pan, zoom, or tilt and use infrared night vision all by remote.
You also get the room temperature monitor as well as motion and sound detection alerts.
Plus with two-way communication you can communicate through all devices back and forth to work together as a parenting team with both viewers or just soothe baby back to bed with the sound of mom or dad's voice.
It also has lullabies, white noise and nature sounds so you can sleep easy while it does the work for you.
The mini monitor is 1.5" and has up to 8 hours of battery life with four carrying options.
The secure digital wireless connection gets a range of up to 800 feet.
The Verdict
This Project Nursery High Def Baby Monitor System earns 3 Stars out of 5.

The Bottom Line
Pros: Bonus viewer! Plus you can record or take pictures to share or print later.
Cons: The range can be tricky if obstructed and it may drop without an out of range warning.
Hot off the press and fresh on the scene, this Safe Baby Tech Baby Monitor system is the self-proclaimed "best".
And this premium edition leaves nothing to the imagination when it comes to features either which have all been upgraded from their prior versions too - many of which were added based on feedback and demands of parents who loved them but wanted just a little more from their system.

The Features
This updated 2018 model has improved signal, longer range and a clear, crisp sound.
The 2 Way Talk feature lets you hear baby and talk to baby (or anyone else on the other end of the camera basically).
Function is easy - just press the "Talk" button to engage the 2 way talk feature to speak through the camera.
The mondo 7-inch screen also makes it easy to see everything and miss nothing. It reaches a total of 10.5" across with the edging making it easily 3 times larger than the competition.
High resolution display gives you a crystal clear picture during the day and at night with its state of the art night vision.
It also has a Sleep Mode feature with auto-dim so you can turn off the display while keeping your audio active.
There's no programming necessary with this system, it's plug and play and ready to roll right out of the box.
They claim to offer exceptional customer service should you ever have any questions too.
The Verdict
This Best Video Baby Monitor earns 3 Stars out of 5.

The Bottom Line
Pros: Large viewing screen and many upgrades.
Cons: Some have claimed they don't have quite as clear of a picture.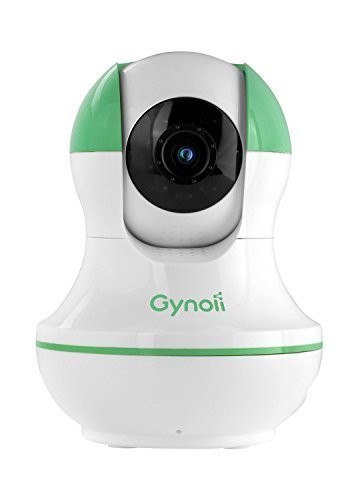 If you're looking for a lower priced system that still offers a ton of features, this is your model. Based on experience with this system, you're getting slightly lower quality in the picture and sound department but still definitely good enough to do it's job.
Plus this set up even offers a cool Guest Account feature where you can allow other relatives like grandparents or the other parent to remote access in to see your little one without making any noise to disturb them and over a completely secure and private connection.

The Features
The only baby monitor that allows remote access via an authorized Guest Account making it great for other family to see and talk to or sing to baby. (A super sweet feature for letting grandma sing a lullaby for bed)!
60 second set up - just connect to WiFi via your iPhone/iPad or Android devices and live stream.
Two-Way Talk feature allows you to communicate to baby without having to get up.
Intelligent sound and motion alerts as well as audio-only mode with a 720p HD day and infrared night vision.
Time lapse for up to 160 minutes of video into 40 seconds and snapshot or clip to share footage to your social media and family.

The Verdict
This Gynoii Baby Monitor earns 2.5 Stars out of 5.

The Bottom Line
Pros: Guest account feature is cool. Very affordable and lots of features.
Cons: You're getting slightly less in the quality department for that lower price.
---
Related Buyer's Guides and MomDeals' Lists:

Your turn! Is there a baby monitor you own, love, and trust or one wouldn't recommend to fellow mommas? Let us know in the comments below!