Summer is right around the corner and you're probably wondering:
What are the best coolers for the money?

With all of the family outings and sports you'll be cheering at (and hauling snacks to) trying to find the best cooler for your money is not the easiest task!
What's the best cooler for camping, sidelines and tailgating, the lake and beach...There are so many things to consider!
That's why we created this list of best coolers 2018. After researching online and spending hours researching top coolers, we've shortlisted the 14 best coolers you can buy right now.
Sounds good right? So let's see how they stack up!

Best Coolers 2018
When you're camping, hanging by the pool or at the beach or enjoying time on the lake, the last thing you want to do on those hot, humid days is crack into a warm drink or food.

We get it. And we know that not only is it important to find a great premium cooler that won't break the bank, but also one that won't be a let down and waste money on what you put in it!
Every cooler boasts chill time and claims to be superior, but sometimes they fall flat in keeping things frosty. So what's the best premium cooler your money can buy?

Well we've compiled this list of all the top coolers and all the pros and cons too. So you can make the best decision for you and your family and not have to worry about all the rest of that mess!
So now that you know where they rank at a glance, let's dive deeper to give you a better idea on each cooler so you can be sure to find the one that's just right for your particular needs.
Because let's face it, there are great coolers for camping and then there are perfect coolers for sideline games and tailgating. There are coolers that'll hang tough in the sand on the beach all day, and coolers that are more ideal for a smaller space like a boat.
While some of these options may be all-encompassing and prove to be the best all around cooler for you, some of these may beat out others based on your individual likes and uses. So without further ado, let's take a look at all that these coolers have to offer for your money: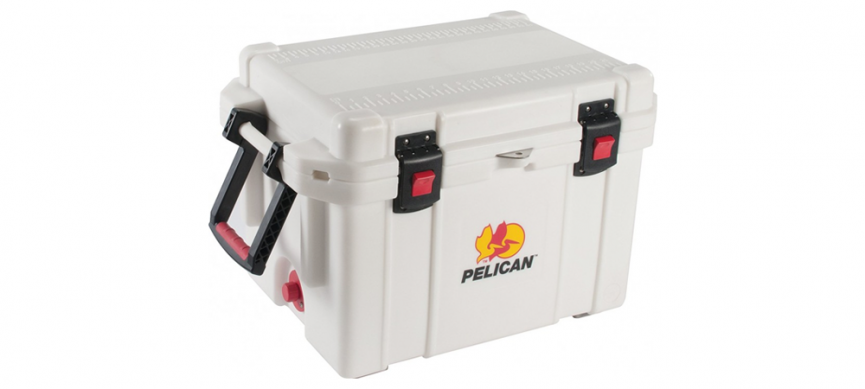 If you're trying to figure out who would come out on top in Pelican vs. Yeti coolers, we've got your answers. When paired against it's counterpart the YETI Tundra 45 in a 5-day ice challenge, you might be surprised to hear that the Pelican ProGear Elite 45 actually outperformed the YETI.

With YETI being a fan-favorite you would probably expect it to be at the top of every list. But, low and behold, after the fifth day the Pelican had not just a little bit but quite a bit more ice still remaining inside than the YETI Tundra did!

In fact, Pelican boasts that it can retain ice for up to ten days! Made in the USA, the Pelican ProGear Elite has all the bells and whistles...or well, buckles I guess would be more accurate. Heavy duty gaskets, latches and wheels, too.
Here's what we think:
As you might expect though, one of the downsides to a cooler that boasts this much chill power is that the cost is usually a bit of a thicker design which makes this Pelican ProGear Elite cooler a just bit more bulky than other 45 models from other brands.

We should note, also, that the Pelican IM Elite Cooler is a good lighter alternative to the ProGear Elite model. So if you're wanting something that'll keep things cold long but also that's a bit easier to manage, this may be better suited for you. You can get it in 20-Quart or 50-Quart sizes.

And you can also get this 45-Quart Cooler both with or without wheels. So if you're after a mega cooler that'll keep your beverages frosty for a week that's a bit easier to tote around, you can grab the Pelican ProGear Elite 45 Wheeled Cooler model.
Otherwise, if max chill power is what you're after, this cooler definitely won't disappoint. This cooler also comes in a wide variety of colors and options as well.

The Pelican 45 is the best-selling Pelican model because of it's size being just the right in the middle, not too big and not too small. This Pelican Pro Gear Elite 45-Quart cooler will hold over 26 cans with a 2:1 ice to content ratio. So you can fit well over a case no problem.
The Verdict:
We love this cooler for camping and spending weekends at the lake because you buy ice once and you're good to go. And let's be honest, when you're on a trip with family or friends the last thing you want to worry about is ice duty or coming back from a day of fun to a bunch of warm drinks.
If you're after a cooler that will get you through a full day of on-field sports, tailgating, fishing or a trip to the beach or pool, this cooler may be a little more than what you're needing. All in all, if you're looking for something that'll keep your cans cold for days, this is the one for you.
For the money you spend on this Pelican cooler, you can also be assured that if you are disappointed at all, you have options. The Pelican ProGear Elite coolers (as well as other Pelican models) are guaranteed for at least three years, so you can buy with confidence.

The Bottom Line:

Pros: Maximum chill-retainage

Cons: A bit heavier and bulkier than the Yeti Tundra cooler (but the wheels make that easier)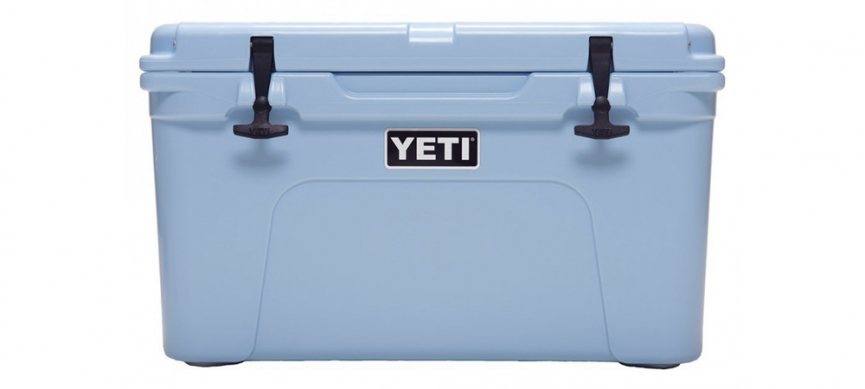 Even though the Pelican beat out this YETI Tundra cooler in the 5-day ice challenges, the YETI is definitely nothing to snuff at! YETI's have made a name for themselves for good reason, they have some of the best coolers on the market.
See Also: Best YETI Cooler Deals of 2018 (Updated Daily)

Here's what we think:
Seriously, you can't go wrong with a YETI. Even if the Pelican beat it out with ice retainage, the YETI won't disappoint on it's chilling capabilities. And if you were to have any issues or damage, YETI also has a five year guarantee on their Tundra coolers too.
With them being just a bit cheaper than the Pelican coolers, as well as a bit lighter and less bulky, this YETI Tundra 45 series makes them a pretty darn good bet for a variety of activities - from multi-day trips like camping to single day adventures like sports, fishing or the beach.
The Verdict:
Of course it also helps to find a great cooler in cool colors too and the YETI doesn't disappoint there either. You can get these Yeti Tundra 45's in a bunch of different colors including Desert Tan, High Country, Ice Blue, LE Coral, and White.
This 45-Quart cooler will hold up to 26 cans when you use the recommended 2 to 1 ice to contents ratio. They also considered the sandwich when they designed this cooler too by adding a tray to keep your sandwiches cool but also dry. Ugh, there's nothing worse than a soggy sandwich from a failed cooler, right?

The latches on this cooler are nearly indestructible too. It's made with a superior quality that will be guaranteed to last you for quite a while. In fact, the YETI Tundra 45 is the most purchased and most popular YETI cooler sold. So you know you're in good company when it's the one that so many people use and recommend.

The Bottom Line:
Pros: This cooler is ideal for every day use as well as multi-day use.
Cons: It's a bit pricey and without wheels it's also a bit bulky to tote around.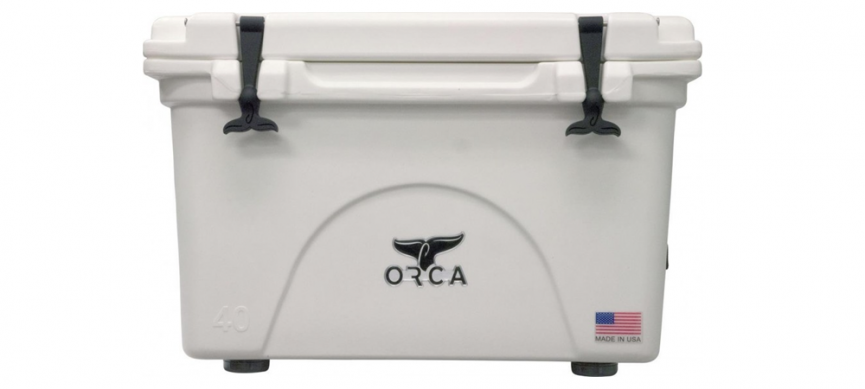 Another great cooler growing in popularity is the ORCA cooler. The 40-Quart being their most popular pick is just 5 quarts smaller than the YETI Tundra 45 and Pelican ProGear 45, this ORCA cooler is 100% USA made and just as durable as its competition.
Here's what we think:
If you're wondering what beast would reign supreme in an ORCA vs. Yeti cooler contest, the answer is a toss up. On the plus side, ORCA coolers are more affordable than the YETI name. They also offer a slightly more manageable size making them easier to tote to your destinations.
And similar to the other rivals, the ORCA boasts a 10-day ice retention claim. And in consumer tests, it's proven itself to be honest. So really either would be a solid investment and you probably couldn't go wrong with choosing one or the other.
They also come with a mesh cargo net for added storage and have tons of styles you can choose from to add some flair to their pretty basic design. This includes the ORCA Classic, ORCA Camouflage, ORCA Collegiate, ORCA Hero, ORCA Licensed, ORCA Lifestyle, and ORCA Team. So you can really deck your cooler out with your favorite theme.

The Verdict:
ORCA coolers come in a plethora of colors including White, Light Blue, Green, Blaze Orange, Tan, Seafoam and more! These ORCA coolers come in a variety of sizes too. So if you're looking for something a bit smaller (and also cheaper) you could consider the ORCA 20 or ORCA 26. And if you're wanting something larger than the ORCA 40, you could always go for the ORCA 58, 75 or even 140 quarts!

ORCA coolers are also backed by a lifetime guarantee too! So you can buy with confidence knowing that your investment is covered should anything go wrong or disappoint in any way.

The Bottom Line:
Pros: More manageable size, durable and more affordable with more options.
Cons: Not as many base features as their counterparts.

4. RTIC Cooler - Same chill. Less moolah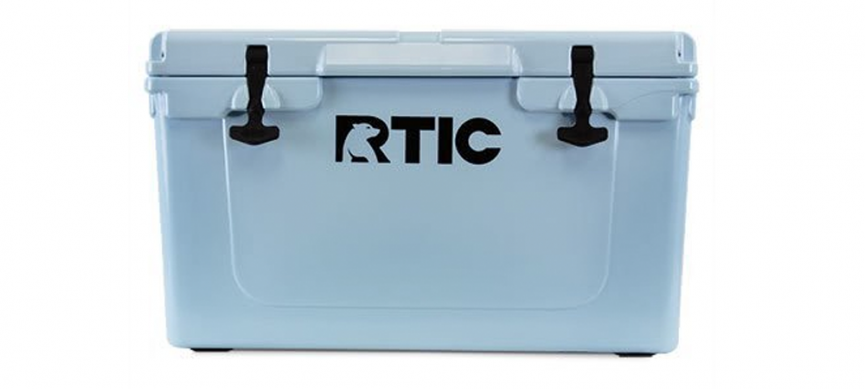 The design of this RTIC 45 Cooler is quite familiar. In fact, when you stack RTIC vs. YETI coolers side by side, you may not be able to immediately tell them apart! This 45 Quart cooler is another super sturdy option that has a design very similar to the YETI Tundra 45 model.
One thing you will notice about the RTIC model though is that it's quite a bit cheaper than the YETI brand. And honestly, in consumer comparisons, this is about the biggest and most noticeable difference between the two.
Here's what we think:
The RTIC Cooler comes in three color options - White, Tan and Blue. And like it's rivals, it also boasts a 10-day ice keeping ability which helps it stand out from the pack.
If you're looking for something smaller, they also offer the RTIC 20 or the RTIC 65 if you're wanting a cooler that's a bit bigger. The RTIC 45 model will hold up to 36 cans slightly less if you're adding more ice for longer chill time.
The Verdict:
RTIC Coolers are made in China. And honestly that's about one of the few things that set them apart from their competition. Because quite honestly, durability-wise and their cooling power is pretty much the same as their rivals. So if where it's made doesn't matter much to you, than the RTIC brand cooler may be your better bet to get you max chilling power for less moolah.
The Bottom Line:
Pros: Cost way less than competitors.
Cons: Not made in the USA.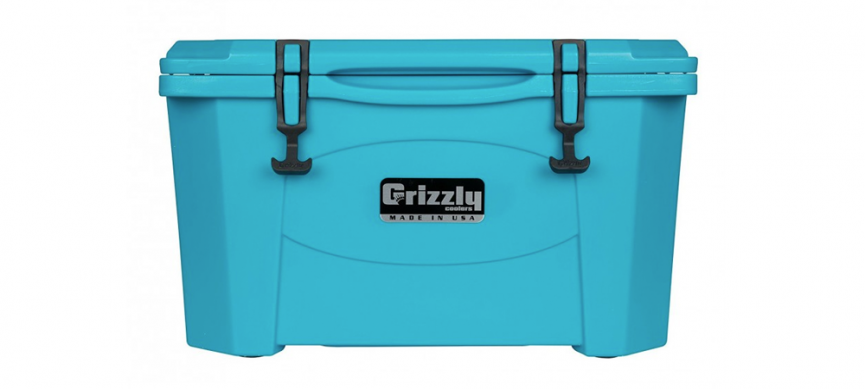 Similar to the ORCA 40 model, this Grizzly 40-Quart Cooler has a 40-Quart capacity making it perfect for just about anything you've got planned from single day outings to multi-day adventures. It'll hold up to 56 12-ounce cans.

Here's what we think:
The Grizzly coolers are made right here in the USA. And when it comes to color options, they've got the best out there. They've got Gray, Lime, OD, Orange, Red, Sandstone, Seafoam, Tan, Teal and White! Whew - that's a lot of possibilities!

Your price will vary depending on what color you choose but even for their highest ticket 40-Quart cooler, they are still way cheaper than a YETI.
And in this case, it's not much cheaper than the YETI (at least compared to the prices of others). But what we've seen is that being slightly cheaper doesn't necessarily mean that they're not as good either. When consumers paired up a Grizzly vs. YETI cooler, they found that both coolers were pretty equally matched in their ice retention abilities.
The Verdict:
The Grizzle cooler boasts up to 10 days of ice retainage. And in challenges, it made it to five days before you noticed any difference in ice - even in super hot conditions.
Grizzle also has plenty of other models from 6-Quart up to over 400-Quarts (!!!) so you can also check out their other sizes if you're needing something larger or smaller. And they're all backed by a guarantee too.
The Bottom Line:
Pros: Equally matched cooling capabilities with a ton of color options
Cons: Slightly pricier than other brands and a bit heavy.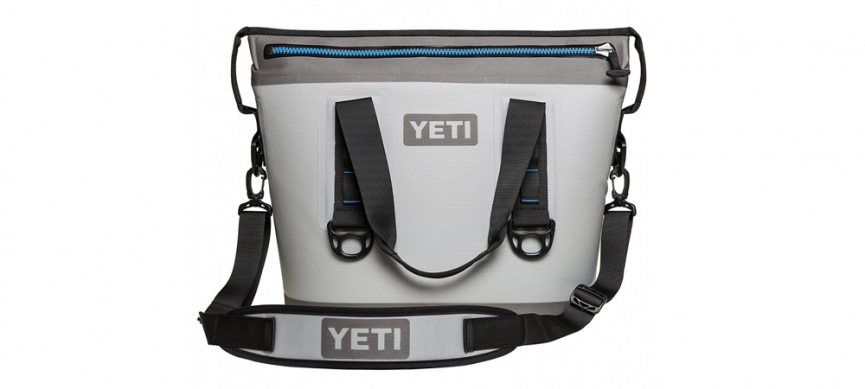 So we've already ventured into just about all of the mid-grade heavy-duty 40 to 45-Quart coolers. So now let's talk about something quite a bit more manageable and super popular.
Here's what we think:
The YETI Hopper Two series cooler is a soft-sided cooler with a carrying strap making it super portable. It's a 20-Quart, 30-Quart or 40-Quart model with a tapered body built for easy hauling. And it's super tough just like you would expect from anything with the name YETI on it.
With a waterproof DryHide shell for water tight guarantee it'll keep those drinks frosty cool for days! And the HydroLok zipper (the same thing they use on Hazmat suits folks!) means it's completely leak-proof from letting water or air out and that means it'll keep everything cool inside for days. Just like the other YETI models, this YETI Hopper Two is also guaranteed.
The Verdict:
The YETI Hopper Two 20 is a perfect cooler to carry around to your on-field games. Got alot of snacks to bring for the team? Then maybe consider upgrading to the YETI Hopper Two 30 which is a slightly larger 30-Quart cooler.
And if you're planning any outings that need even more kept cool, the YETI Hopper Two 40 is a 40-Quart like the coolers that we talked about above. But with the "tote bag" feel, it makes hauling it even easier.
These YETI Hopper Coolers come with a two-tone feature that gives them a little pop. Each model has a few color options to choose from too including: Field Tan/Blaze Orange, or Fog Gray/Tahoe Blue.
The Bottom Line:
Pros: Ultra durable, portable and virtually leak-proof.
Cons: Pricey and no added compartments for extra storage of food or valuables.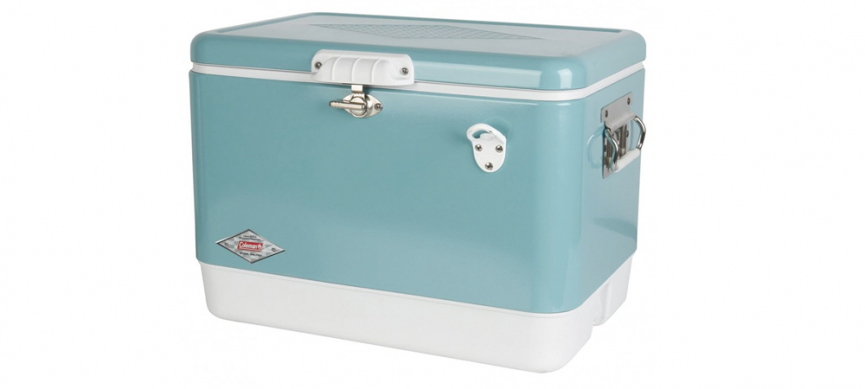 When I see this Coleman Steel-Belted Cooler it brings me back to my childhood. It reminds me of the same coolers we had at the campground growing up. That classic metal design makes it like an actual fridge. A retro one at that. And it sure keeps things cool like one!
Here's what we think:
This Coleman Cooler is definitely way cheaper than most other models we've reviewed and is perfect for camping or those all days events you have going one. It's literally like an outdoor refrigerator with a high-capacity 54-Quart capability you can probably fit most of your fridge contents in it! (To give you an idea, 54-Quarts will hold over 85 cans)
In temperatures of 90-degrees or more it boasted a 4-day ice retention capability too so that's definitely nothing to scoff at considering the price! And don't be fooled by the metal exterior, this baby is built to last. The heavy-duty stainless exterior is rust resistant and also takes a good beating without looking roughed up.
The Verdict:
The Coleman Steel-Belted Cooler has a timeless look that's classic and the quality of the cooler is top notch. We also love how many colors these come in.
The Coleman 54-Quart Steel Belted Cooler also comes in a variety of colors too including: Black, Dark Black, Green, Red/Black, Rose Pink, Silver, Stainless Steel, Turquoise. Oh and it's got a handy built-in bottle opener even to add even more of that classic character and retro vibe.
The Bottom Line:
Pros: Super affordable and awesome color options.
Cons: Shorter ice retention time than the top dogs.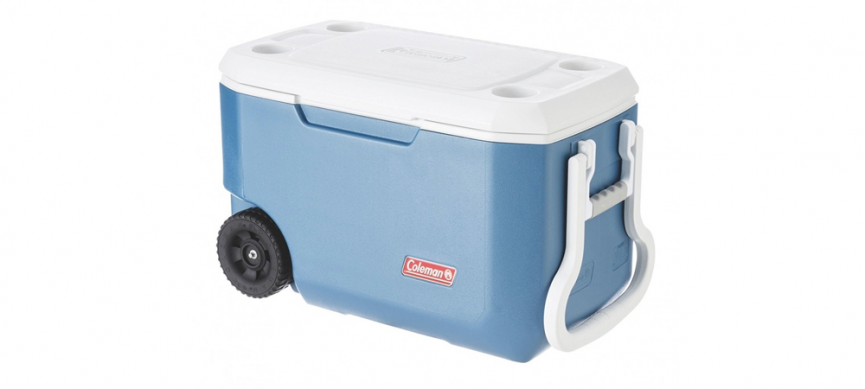 So when you think about coolers, this is probably more of what comes to mind. This is the classic design tub with built-in cup holders on the lid.
The Coleman Xtreme 62 Quart Wheeled Cooler with Handle still packs quite a bit of chill power despite having a price tag that's just a fraction of the pricier coolers.
Here's what we think:
The Coleman Xtreme Cooler has 62-Quart capacity which will hold up to 95 cans and retain ice for up to 5 days. Plus, like those other more expensive coolers, the Coleman Xtreme Cooler is made right here in the USA too.
The Verdict:
This Coleman cooler is perfect for those sports events, tailgating and weekend camping trips. So if you're a soccer mom, this would be perfect for snack duty on those tournament days.
You can also get the Coleman Xtreme 6 Wheeled Cooler with Handle which is even bigger with 82-Quart capacity that can hold up to 129 cans! So if you have any large group outings or are planning on being gone for several days, this may be your better bet.
This model also comes with the wheels and easy transporting handle making hauling all that cold stuff a breeze that you don't have to break your back over.
The Bottom Line:
Pros: Super affordable and easy to get around.
Cons: Half the ice retention power as the pricier counterparts.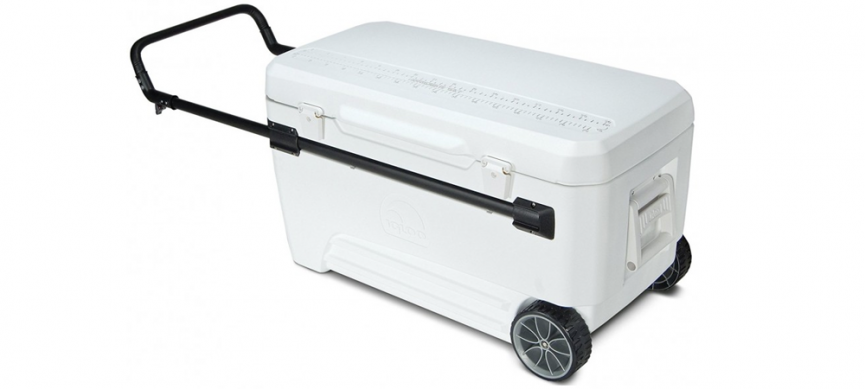 If you're talking about wheeled coolers with handles, it would only make sense that this Igloo Glide-Pro Cooler makes it on the list. This wheeled cooler takes transporting a serious amount of chilled goods to a whole new level and it's great for beach trips!

Here's what we think:
If you're planning any large outings or a big camping or boating trip, this Igloo Cooler will be your new best friend. With virtually indestructible zinc-plated metal hinges and easy glide handle gives you maximum leverages to make transporting a breeze.
This Igloo Glide Pro sort of reminds me of that wheeled luggage that makes traveling such a breeze. And that's exactly what this cooler does too. Plus the price tag makes it a way more affordable cooler option while still giving you up to 5 days of ice retention even in the hottest of conditions.

You may also want to consider the Igloo Max-Cold Glide-Pro 110 Quart Roller Cooler which offers even more ice retention capabilities in the same giant tub style cooler so you can pack a load of stuff for your bigger trips or for larger groups.
The Verdict:
When you stack these Igloo Glide PRO Coolers up against other brands like YETI or Pelican, this beast can definitely match their abilities with almost a week of keeping iced beverages and foods.
The Bottom Line:
Pros: Affordable, super large capacity and easy to pull.

Cons: It's a bit hard to lift if you have to load it into your truck, SUV or camper.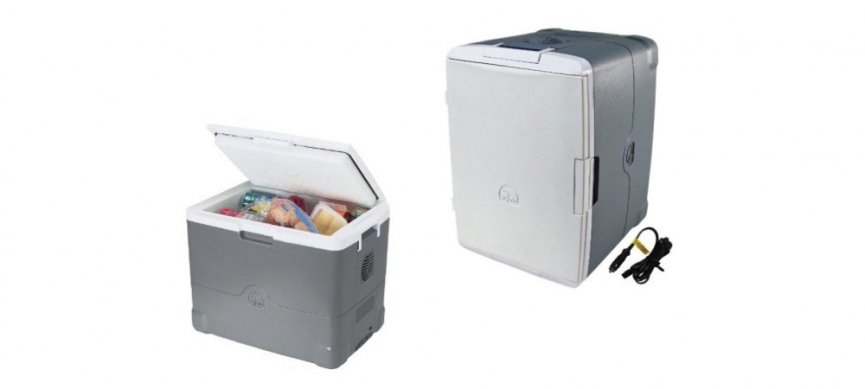 With all this talk about ice retention, it kind of makes you wonder what the world would be like with a cooler that didn't even NEED ice!? Well we've got your answer. It's amazing!

Here's what we think:
The 40-Quart is by far their top seller because it's the perfect in-between offering enough capacity for more than one person but not too big that it's too hard to manage.
The polypropylene keeps the cool in while a 12V DC Auto Plug Adapter cools the inside to a nice 38-degree temp just like your kitchen fridge!
And with convection cooling the fan circulates the cold air allowing plastic and glass containers to cool just as fast as cans. And if you weren't convinced that this thing is just like a fridge, you can even use this Igloo cooler upright just like a refrigerator!
The Verdict:
With this Igloo Iceless Thermoelectric cooler you basically have a portable refrigerator and don't have to make the stop for ice - ever!

It even has an adjustable food shelf when sitting upright which can also act as a divider when used as a traditional cooler. So if you have any camping trips or boating trips, this would definitely be a cool cooler to have on board or at the site.

You can also check out the other sizes of these Igloo Thermoelectric coolers if you're interested in a smaller or larger model.
The Bottom Line:
Pros: It's basically a refrigerator that you can charge with your car charger.
Cons: Not ideal for long trips if you don't have the ability to recharge it.

11. Igloo Yukon - Expensive but solid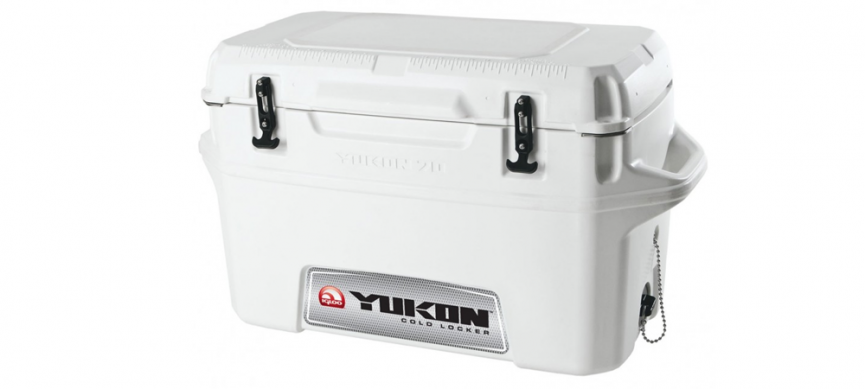 So we've had a few unique styles from Igloo already but for the sake of comparison, the Igloo Yukon Cooler is a little more on pace with the other big rivals like YETI, Pelican and RTIC. It's a comparable match-up when you team this Igloo Yukon vs. YETI.
Here's what we think:
Both coolers boast an incredible ice-preservation of up to 10 days (and honestly neither had a problem keeping ice for over 5 days even in 90+ degree weather). And this Igloo Cooler has a little more of a similar look to the other brands tub style.
Their 50-Quart model is their top seller for the obvious reason that it provides a capacity right in the middle - so it's not too big and not too small but juuuust right. If you do need a larger size though, they also offer the Igloo Yukon 70-Quart and an Igloo Yukon 120-Quart too!
Price-wise it's not as budget friendly as the other two Igloos we reviewed above but it's still cheaper than some of the other popular coolers.
The Bottom Line:
Pros: Superior chilling ability than other Igloos and super tough.
Cons: Heavy and bulky and not the cheapest alternative.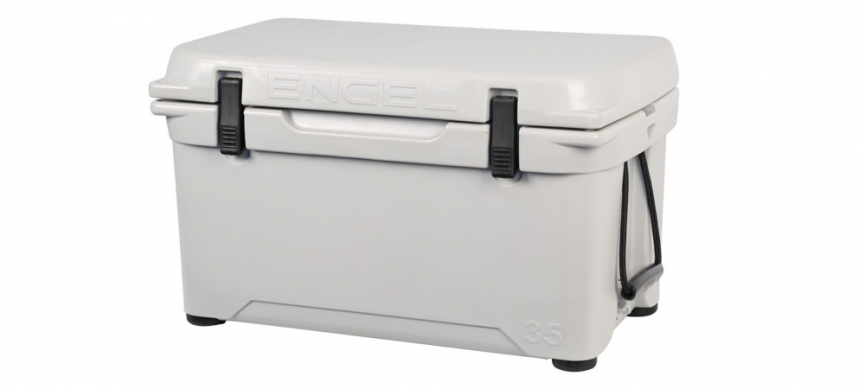 This one may be a brand you're not as family with but I assure you, it's popularity continues to climb. The Engel High Performance Cooler when paired against YETI and Pelican had equally as much cooling power with up to 10 days of ice keeping abilities.
Here's what we think:
But what makes it a bit more desirable is the more affordable price tag that comes with it. Plus the fact that it comes with several color options makes it even better. You can choose from Haze Gray, Tan, Tan & Camo, White and more.
On the downside if you're going to pair an Engel High Performance Cooler vs. YETI, though you may not see any immediate differences, one gripe is that they just aren't quite as durable for the long haul as the pricier brands.
The Verdict:
But when to comes to quality, don't get us wrong, you're definitely still getting a great cooler with an Engel. These things can take quite a beating before any belts break so unless you're dragging it through the Grand Canyon from the back of a mule, you're probably not going to notice any difference.
The design is a bit sleeker and simpler than the other brands but it's still sharp. And if you're looking for something a bit larger you can also get this Engel HIgh Performance Cooler in the ENG50 and ENG80 too!

The Bottom Line:
Pros: A more affordable alternative to
Cons: High quality - but not quite as durable as a YETI or Pelican.

You don't want to be sleeping on this brand. The Canyon Coolers are another roto-molded, polypropylene, multi-day cooler that will not disappoint whether you're camping, hunting, fishing, boating, beaching, barbecuing, tailgating and more.
Here's what we think:
This Canyon Coolers Outfitter Series 55-Quart is by far their top selling premium cooler and will easily keep ice for 4 to 8 days when pre-chilled. And the plastic is kayak-grade so it's durable against whatever you have to put it through.
The Verdict:
This premium multi-day cooler is also another USA pride and joy featuring its environmentally friendly pressure-injected HUNTX foam insulation made right here in Alabama. And like your more well-known brands, Canyon Coolers stands by their name too with a lifetime warranty. So you can buy with confidence.

They also have a bunch of other sizes and color options to choose from too. You can browse all of the other Canyon Coolers styles here.

The Bottom Line:
Pros: Affordable and durable.
Cons: Doesn't retain ice quite as long as the competition.

14. Icey-Tek - Low man on the totem pole


Here's what we think:
Icey-Tek has had a rough time reaching the big dogs. Made in Thailand, they are heavy-duty but just not as durable as the brands we've covered earlier in this post. And even though they're more affordable, their price point is still a little higher than you may want to spend for something that's not as sure of a bet.

However, that said, they do come with a 2 year manufacturer's warranty so at least you know if anything fails you during the first couple of years, you're covered. And that's always a relief and a factor I consider when making a purchase of a couple hundred dollars.
The Verdict:
After two years, the cost of replacement parts lies on you and to be honest, they're a little pricey so it's definitely a point you'll want to consider with this purchase.

But with regard to their ice retainage ability, they can back up their claims because these ice chests will hold ice for 5 days.

Icey-Tek has a variety of cooler sizes and colors to choose from. Take a look at all of the other styles available here.

The Bottom Line:
Pros: Lots of color options and durable.
Cons: Heavy and botton of the pack when it comes to competition.
Your turn: Is there a cooler you love that we didn't review, or is one of the ones we mentioned your favorite? Let us know in the comments!

---
Related Buyer's Guides and MomDeals' Lists: