I hope you'll agree with me when I say:
Spending a bunch of money on a kids smart watch I don't know much about is silly.
That's what started me on my search to find the best kids smartwatch for 2018.
When I first started reading about the best kids smart watches and how popular they're becoming I thought to myself, there should really be a breakdown these.
Being able to track the kids at all times through a smart watch or tracker is something I like to keep tabs on. Add on the fact some of these have a GPS for emergencies?
Sign me up.
This is why we have created a list of Best Smartwatches For Kids 2018. We've shortlisted the very best kids smartwatches you can buy right now in 2018.
Sounds helpful, doesn't it? Well here it is.
Best Smartwatches For Kids 2018
We will be looking at the best smart watches for kids that are currently available for purchase, we went ahead and broke down the pros and cons of each as well as how the smartwatch ranks against the rest and also stand out features.
1. VTech Kidizoom DX2 - Most Affordable Smartwatch For Kids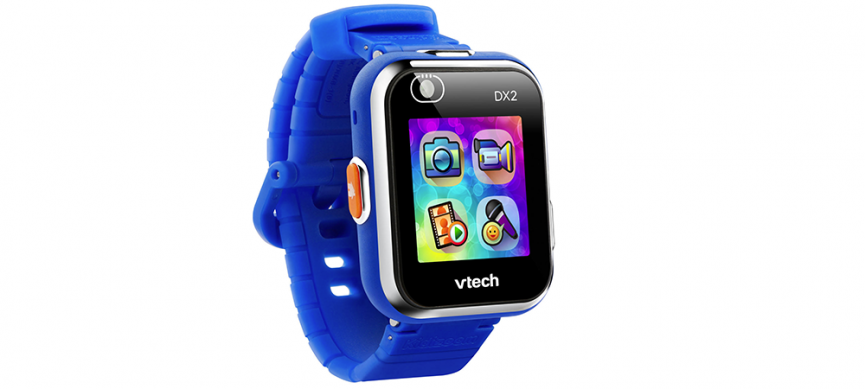 If you're on the hunt for a great kids smartwatch that won't break the bank, look no further than the VTech Kidizoom Smartwatch DX2. Not only is it one of the cheapest kids smartwatches on our list but it's also got some of the best reviews too.
The VTech Kidizoom is designed with kids in mind and made for children aged 4 to 12. It dubs itself as "The smartest watch for kids" and while we don't know that for sure, it's quite a claim to make (and any agree with how many positive reviews these have).

While the design is kid-centric, the VTech Kidizoom Smartwatch has a bunch of features, to make things easy for you, we'll be listing all the features below:
Two Cameras: This watch is a selfie lovers dream. The watch features two cameras that let your child take selfies and videos from.
Custom Watch Faces: Not the most parent needed feature, but the kids seem to love them.

Parental Controls: Keep tabs on how much time the kids can spend playing games on this thing.

More Features: Touch Screen. Rechargeable Battery, Voice Changer, Photo and Video Effects, Motion Apps, Time Apps, Games, Splash Proof for Everyday Play.
This is a rundown of the basic and advanced features of this watch. While the watch itself is pretty basic and easy for the kids to use. It has a bunch of features you'll want to dive into and take advantage of while using it.
All in all, the VTech Kidizoom Smartwatch DX2 is a good smartwatch for kids, it's cheap and not too expensive and does everything most of us need from a smartwatch for kids. I would say this smartwatch is a good started smartwatch for kids when compared to the field.
While the VTech Kidizoom Smartwatch DX2 has a bunch of features there are some more advanced features that they left out of this smartwatch, however that's why this kids smartwatch has such a great price, totally worth trying.
Pros: Simple, made with kids in mind, kids love it, tons of features.
Cons: No location tracking, apps aren't as polished as we'd like.
2. TickTalk - Best GPS Smartwatch For Kids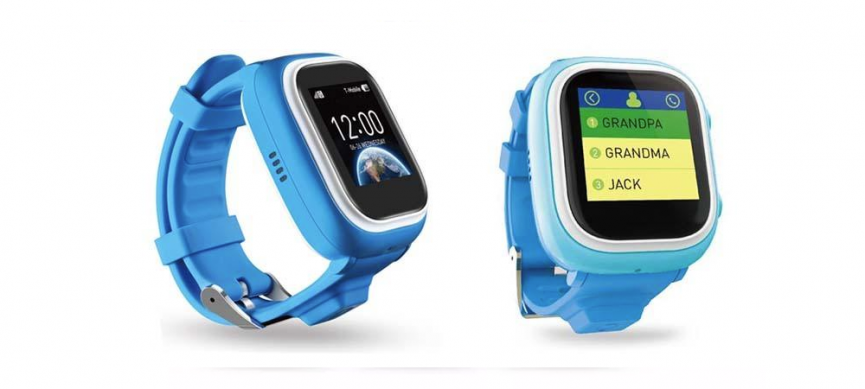 While not the cheapest smartwatch for kids, the Ticktalk tops our list because of it's features. For me, a kids smart watch being able to take calls, have GPS for emergencies and a watch the kids actually enjoy are three things that are totally a need when picking a smartwatch.
The Ticktalk smartwatch for kids does all of those things and then some. Set reminders, take phone calls (limit of 13 contacts but seems enough to me) a locator that provided accurate location when I'm worries oh and it's compatible with Apple and Android?
To me this is everything I considered when I first had the idea to get the kids a smartwatch. Now, keep in mind there is a $5 a month plan on these smartwatches that runs on T-Mobile's network.

But check out how feature rich this kids smartwatch is:
SOS: Hold the SOS button down for 3 seconds to call a preset number.
Locator: A big one for me, uses WiFi, GPS and LBS to provide pinpoint location on a map.
Phone Calls: Takes phone calls and allows 13 contacts
Text and Voice Messages: Text from parent app to watch

We haven't even mentioned, there are a lot of features included with this smartwatch that make it top our list. Set things to do alerts, create routines and tasks through the parent app that help the kids work on good habits and time management.

I just feel a lot safer having a watch run on the T-Mobile coverage map and I can check in on my kids whenever needed (on an actual map too) also having options like the SOS option in case of emergencies is always reassuring.

Pros: GPS tracking, Uses T-Mobile coverage map so very reliable.
Cons: $5 a month, higher price than most kids smartwatches, not very customizable for kids.
3. Garmin VivoFit Jr - Best Activity Smartwatch For Kids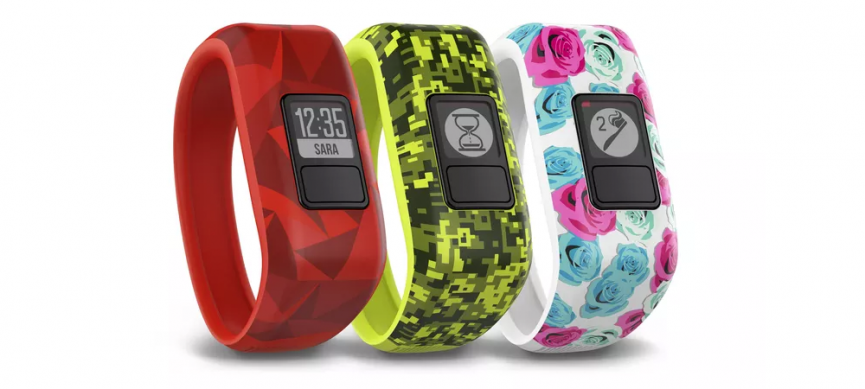 If you're wanting a smartwatch for kids that has pretty much everything (activities and apps they can use, fitness tracker and also GPS tracker) you'll want to consider the Garmin VivoFit Jr.
It's comes jam packed with a lot of extra goodies with mom in mind: a stop watch, a chore tracker, task timers (for when the kids are brushing their teeth), step tracking and a bunch of others.
The best part about the Garmin VivoFit JR is it has a cool little parent app which is super easy to set up and get started with and keep track of everything. Not just that either, the band is waterproof so no worries about spills while wearing it and kids seem super into the fitness use of these (counting steps and meeting goals) which we just love.

Oh and there's more, here's some of the best features we love:
Swim friendly: Let your little one wear this in the pool this summer with no worries.
Battery Life: The Garmin VivoFit Jr has a battery life of one year! Pretty awesome.
Parent App: Comes with a handy app for managing and assigning chores.
If you're needing a fitness tracker for kids, the Garmin VivoFit is a great option. Kids are motivated and love to keep up with their steps and it's nice that parents can follow along too.
The only knock I have against the Garmin kids smartwatch is the lack of apps, I think they could do more but it seems they focused on the activity side of things over entertainment (which is a nice option for some) all in all it's still a great kids smartwatch that made our top list.
Pros: Waterproof, great fitness tracker, kids count steps.
Cons: More focused on being a fitness tracker, but still a good kids smartwatch.
4. Leapfrog Leapband - Best Smartwatch For Younger Kids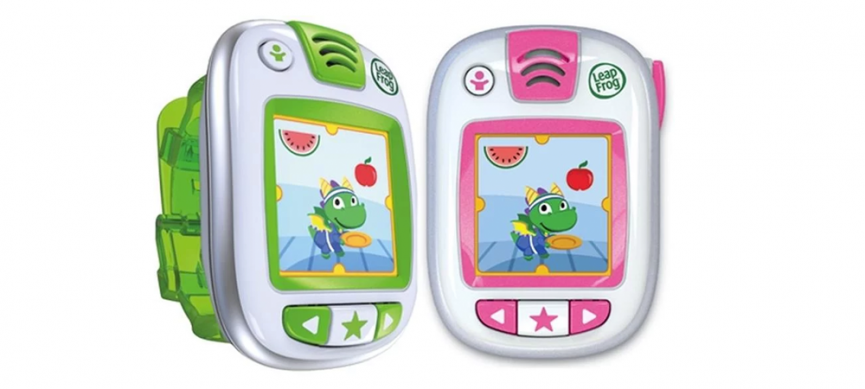 If you're looking for a watch that's perfect for younger kids consider the Leapfrog Leapband smartwatch for kids that's designed for children aged 4-7.
The Leapfrog Leapband puts a focus on activity and encourages kids to get active to curb the growing obesity problem in the US. It's a pretty brilliant concept considering it mostly focuses on kids forming healthy habits through activities, fun games and educational apps.
Physical Activity Tracker: Kids love the fun activities in this smartwatch.
Water Resistant: A great option for summer fun!

Virtual Pets: Kids get to choose a virtual pet with this smart watch.
Oh and did we mention the price on this thing? It's by far one of the cheapest kids smartwatches we've come across, but the reviews rave about this thing 59% of people give it a 5 star on Amazon which makes me think a lot of kids are getting their activity on thanks to this one!
Pros: Great for littles, activity focused.
Cons: Limited capabilities, but probably for the best.
5. LG Gizmopal 2 - Best Smartwatch For Kids With Calls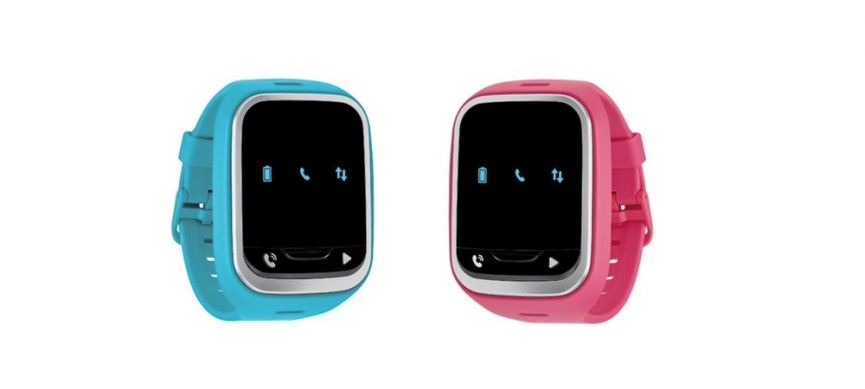 The LG Gizmopal is another GPS-focused kids smartwatch. The cool thing is the LG Gizmopal runs right off of Verizon cellular plans and you'll have to get a plan from Verizon to get this (unless you already have one) and for that, we have it quite low on our list.
But, if you're on the hunt for something that has real time GPS, it's not one to pass over. The LG Gizmopal has real time GPS and lets you set boundaries so you get a note when your child crosses a specific boundary, it's a nice perk incase of emergencies.
The watch also has calling so you can check in on your little when you feel like it. It also has a few other neat features like caller alerts and voice clock, here's some of the stand outs:
GPS: Real time GPS on Verizon coverage maps.
Takes Calls: Two way voice calling.
Security: Set boundaries with the GPS and be alerted when outside of boundary.
I also really like the design for kids, and they love it too. You can get the LG Gizmopal in both blue and pink which is great and this watch is perfect for children 4-10.
Pros: Great GPS capabilities.
Cons: Not feature rich when compared to other kids smartwatches.
6. Kurio Watch - Best Smartwatch For Kids With Camera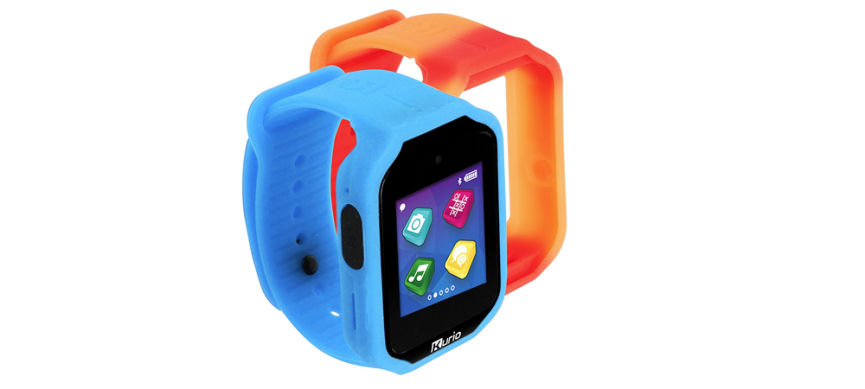 The Kurio Kids Smartwatch is a super interactive, affordable and just overall feature rich smartwatch for kids. The smartwatch uses a high resolution tech screen so the littles can feel just like mommy using my Apple Watch, and the quality (for the price) is superb.
The watch just feels more feature with (probably because all of the apps and games) when compared to the other kids smartwatches and fitness trackers we've gone through.
Some of things on this smartwatch are the ability to take selfies, play games, message friends listen to music it's nice that it has some of the safer grown up activities, because it lets the kids express themselves through photos, filters and shooting funny videos.
Here's some of the best things about the Kurio kids smartwatch:
Affordable: Easily the best price point of all the kids smartwatches we've seen.
Camera: Videos and photos with the .3 MP camera on this one.
Feature Rich: Lots of apps and games for the kids to play.
Emergency App: Use the Case of Emergency App for critical information if needed.
The kids also really liked the feature of being able to swap out the color changing band, not sure why but since it's summer my little guy went with the orange. I think just having the ability to change it out is what the kids love.

While the kids love this thing (it keeps them busy) you'll want to check the reviews on this watch. While the screen is nice, it seems to crack if dropped. Also, the smartwatch only being available on Android is a big drawback for many people who've purchased.
Pros: Kids can take calls from friends and family, feature rich, camera, and parent app.
Cons: Only available on Android, not a great battery life.
7. Orbo Smartwatch - Best Smartwatch For Kids With Entertainment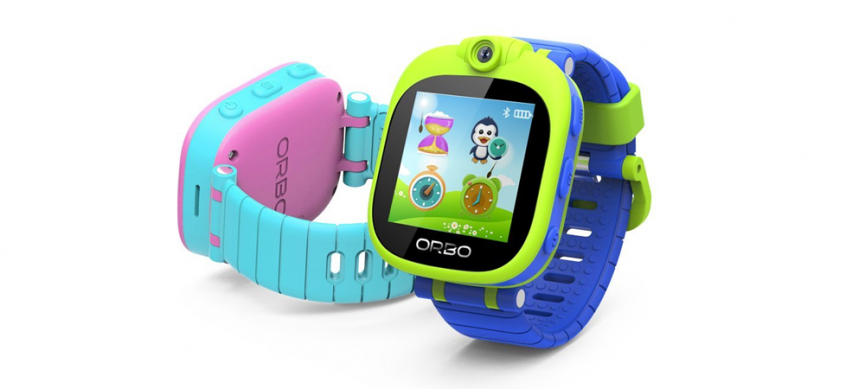 The Orbo kids smartwatch is a kid friendly touchscreen smartwatch that puts the focus on educational interaction which they've dubbed Edu-tainment (which we love).
The games and apps on Orbo sharpen memory, improve speech and has a bunch of apps that stimulate and educate children while having fun! The Orbo features a built in camera so the kids can take fun selfies and videos for hours.
My favorite thing about this watch is just how interactive it is and intuitive. It puts the focus on having an interface that kids will actually enjoy and with that has fun games that educate kids and keep them busy while learning in the process.
The Orbo kids smartwatch features include:
Games: Has educational games that kids enjoy while improving memory, reflex and musicality.
Interactive: Beautiful display that the kids really get into.
Camera: Take videos and pictures with the impressive camera on Orbo.
Overall the kids found this one to be pretty comfortable, and enjoy the games being played on it. I like the fact that these are educational games that improve skills moms find important.
Pros: Connect via bluetooth to any cell phone, educational games, camera.
Cons: Not waterproof, too simple, not the best interface we've used.
8. VTech Kidizoom DX - Best Cheap Smartwatch For Kids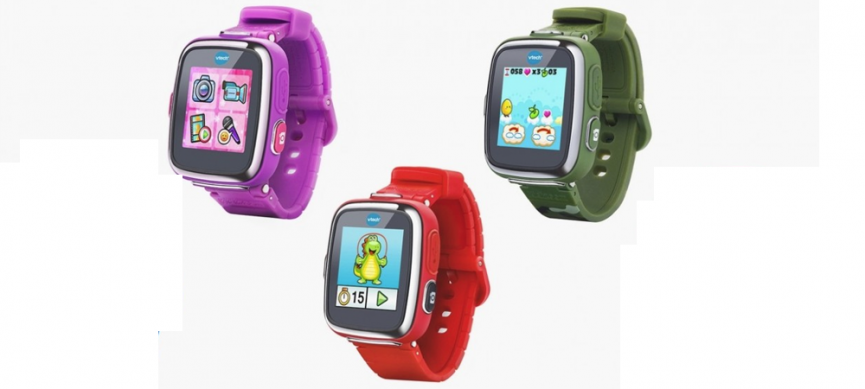 If you're looking for a watch that's affordable, consider the first Vech Kidizoom Kids Smartwatch. While the DX2 has a bit more features than the DX if this is your first kids smartwatch buy, you may want to go with the older version before trying the newer one.
The VTech Kidizoom Smartwatch DX is the first watch of the brand and has some really great reviews you'll want to check out.
Some of the stand out things this children's smartwatch includes are the alarm clock, the time, a calendar, a camera, and also a voice recorder which the kids have loved.
It's funny sometimes these newer tech bring back things we did as kids and I just love when the kids are doing some of the stuff we used to do as kids with the new tech, it's what works!
Here's some of the features we love about this watch:
Interactive Activities: The Kidizoom Smartwatch features 3 activities, 5 games, 3 action challenges and a motion sensor.
Camera: For pictures and videos, also a voice recorder.

Clock face designs: 50+ clock face designs.

The VTech Kidizoom Smartwatch DX watch is recommended for ages 4-9 years and really is a great started watch when you compare it to the field. Here's some of the pros and cons of going with the VTech Kidizoom Smartwatch DX over the rest:
Pros: Math focused apps, lots of activities, photos and videos.
Cons: Doesn't connect to smartphone or bluetooth, doesn't take calls either.
Your turn: Have a smartwatch we didn't review? Take a second and tell us about it! We'd love to hear what other kids smart watches people are using and how they work!
---
Related Buyer's Guides and MomDeals' Lists: