15 Summer Reading Programs For Kids (2018)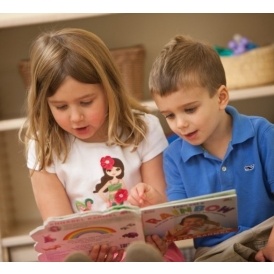 I think you'll agree with me when I say:
Summer reading is such a good way to keep kids reading skills sharp.
If you're like me, the last thing you want is your little to lose those useful reading skills they picked up this year.
So how do we keep their mind on the grind?
By signing them up for a summer reading programs that's how!
Summer Reading Programs
Most people don't know this but:
There are a ton of summer reading programs are completely FREE.
That's right free, companies for years have offered free summer reading programs that include incentives and freebies to challenge kids through summer and a bunch do it for free.
Whether it's just a basic Summer reading list for kids or a full on kids Summer reading challenge, there are plenty of options that'll be sure to have your little brainiacs eager to participate.
Summer Reading Programs 2018
Summer reading for kids is proven to help keep their skills sharp and makes returning to their academics after summer a much easier transition.

Not to mention it's a great way to start their lifelong love for reading. We'll be rounding up the best Summer Reading Programs for 2018 below to make things easy: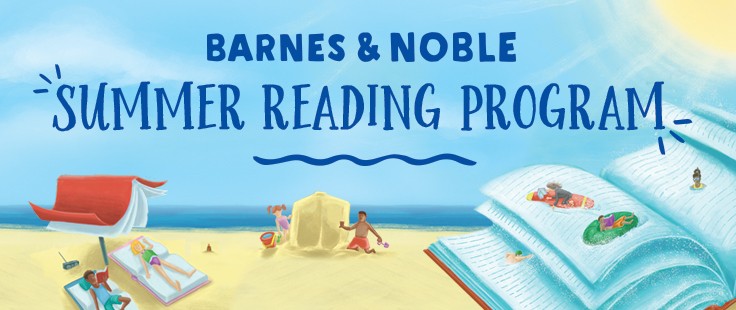 Dates: Now through September 3rd, 2018
Grades: 1-6
How it works:
Barnes & Noble's summer reading program is back once again and they are offering kids a FREE book after they've read and logged eight books on their reading sheet.
The Barnes & Noble Summer Reading Program is open to children in grades 1 through 6. And once they have achieved their goal by completing their reading journal they can choose a free book from the selected books available at your local store.
While the free book offer may only be open to kids, they also have a young adult and adult summer reading list that you can check out too.

How to sign up:
Download the Barnes & Noble Summer Reading Journal.
Have your child read any 8 books they want over the summer and record them in their journal.
Take the completed journal to your nearest Barnes & Noble store by September 3rd, 2018.
They can choose a free book from the books listed right on the back of their reading journal.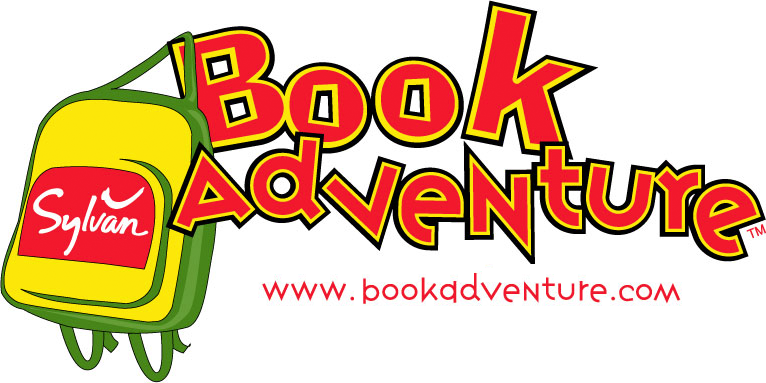 When: Thru June 30, 2018
Grades: Kindergarten thru Eighth Grade
Unfortunately the Sylvan Book Adventure reading program will be coming to a close this year on June 30, 2018.
But that means you still have time to enter your children and take advantage of it for the duration of the time it's available.
This reading program for kids is a year-long program that's totally free. Kids in grades K thru 8 can search for books, read them offline then come back to take a quiz on what they read to earn prizes!
Prizes range from chocolate bars and temporary tattoos to Highlights magazines and more.
Their site also offers a Kids Zone, Teacher's Lounge and a Parent's Place so you can get access to all sorts of great reading and learning materials no matter what age.

How To Sign Up

Just head over to their site and Find a Book
Then once finished, they can Take a Quiz on that book
You'll sign up and upon completion, your child will receive their prize!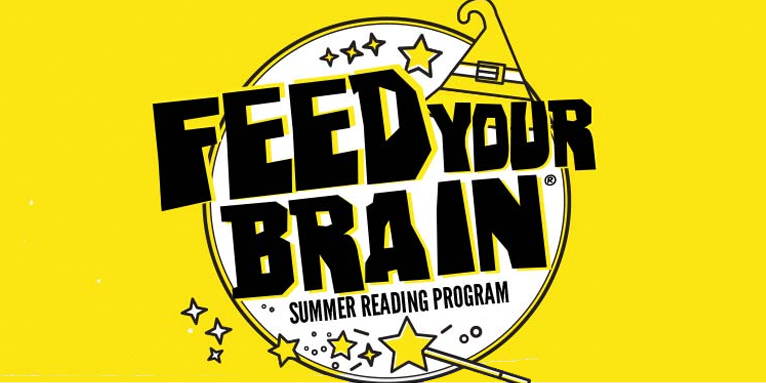 When: June 1st thru July 31st, 2018
Grades: Preschool to Middle School (Up to Age 14 or 8th Grade)

The Half Price Books Feed Your Brain Summer Reading Program is a free kids reading program that actually gives out free Half Price Books gift card to kids who ready for at least 300 minutes during June and July!
This summer reading program is available to preschoolers to middle school students and will allow them to earn $5 Bookworm Bucks (Half Price Books store credit) that they can use in-store! They'll get a $5 Bookworm Bucks gift card once they've ready 300+ minutes.
All you have to do is download and use this Kids Summer Reading Log to keep track of their minutes and have a parent or guardian initial it each week.
Once they've reached 300 minutes just bring that Reading Log to your nearest Half Price Books location and claim their Bookworm Bucks anytime before August 30th, 2018.
Each child can earn $5 for each month - June and July. So this summer reading program can actually earn them $10 if they do it both months!
How To Sign Up

Download this FYB Reading Log.

Have your child log their minutes spent reading during the month of June and July.
Once 300 minutes have been reached, bring your reading log to your nearest Half Price Books location by 8/30/18 to receive their $5 gift card!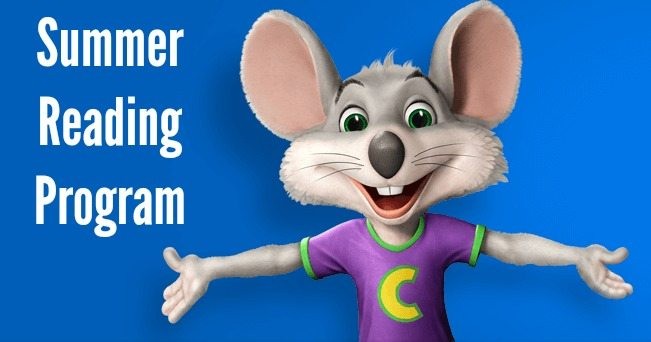 When: Year Round
Grades: Any
Chuck E. Cheese not only has a Reading Rewards Program but quite a few other great rewards incentive programs that you could use with your kiddos (Potty Training for example!) Heck they even have one for "No Nose Picking".
With their Chuck E. Cheese rewards program, namely the Kids Summer Reading Program, your child can earn themselves 10 free Chuck E Cheese tokens just for reading every day for 2 weeks!
Even better, this program isn't limited to just the summer time either. They can do this year-round! So it's also great to take advantage of during the months where the weather isn't so great for outside activities!
The only catch is that a food purchase is required to be able to redeem the 10 free tokens. So just plan to grab a pizza and make a day of it with the kiddos to reward the for their commitment to continued learning.
They have a limit of one reward offer per child per day. So honestly, even if you can't stack multiples on the same visit, you could go for back to back visits all month, heck, all year if you've got some great little achievers!

How To Sign Up:
There's no need to sign up. Just complete this form to claim your child's 10 Free Tokens
Take the form to your nearest Chuck E. Cheese location and purchase a food item during your visit to redeem your free tokens.
Then just sit back and watch them have fun!

5. Scholastic - Summer Reading Challenge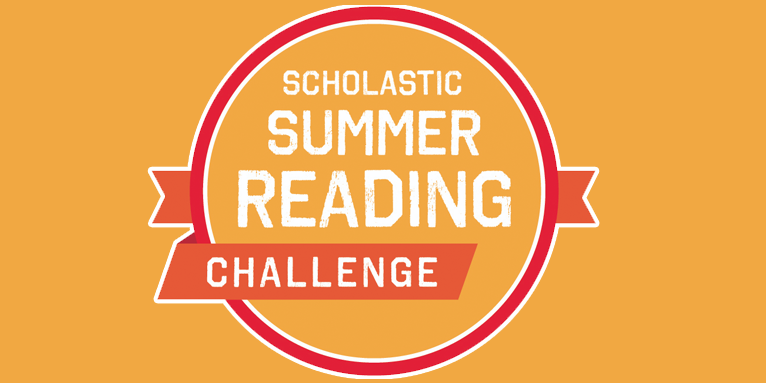 When: May 7th thru September 7th, 2018
Grades: All
The Scholastic Summer Reading Challenge for kids is a FREE online reading program for kids that takes place from May thru September each year where your child will log their minutes of reading and complete weekly challenges to receive digital rewards.
They also will have winners announced on September 26th, 2018 for the top school in each U.S. state (and D.C.) that has logged the most reading minutes and will be dubbed "Best in State School". Special recognition will be given to the top ten libraries and top ten community partner organizations nationwide with the most minutes read by their students! So classes and group can work collaboratively to try to log the most minutes.

The 2018 Scholastic Summer Reading Program Challenge theme is " A Magical Summer of Reading" to commemorate the 20th Anniversary of the Harry Potter and the Sorcerer's Stone.

You can view the book lists for each age group here.
All you do is register your kiddo online. Teachers may also register their students as well and then just give your student (or their parents) their username and passwords to be able to access the Scholastic Summer system over vacation.
This reading challenge even has a handy app that you can use.

How to Sign Up:

Register your child and they can begin logging their minutes as of May 7th, 2018
Check out the reading list for ideas on great books for your kids to read
Reading time logging ends September 7th
6. Pizza Hut - Book It Reading Program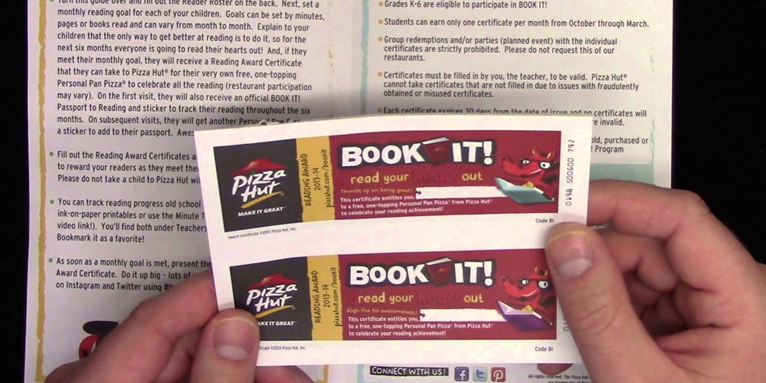 When: October thru March (and all schoolyear starting in September for homeschoolers)
Grades: Kindergarten thru Sixth Grade (5 - 12 years old)
Who doesn't love free pizza?! Well to help keep your kids reading, Pizza Hut's BOOK IT! Reading Program in affiliation with Candlewick Press is bringing your kids this reading program. Schools and homeschooling parents can enroll their classes and enjoy summer reading activities and free downloads.
Then your kids can earn themselves a FREE Pizza Hut Personal Pan Pizza every month of the 2018-2018 school year when they reach their goals - like number of books read, number of pages read, or number of minutes spent reading.

They also are offering prize packs all summer on the Book It! Program Official Facebook page.

Enrollment works by school so you'll just need one enrollment for the entire school.

How To Sign Up:
Just visit the Book It! Enrollment page to find your school and sign up.

Individual Home Schoolers can enroll beginning 9/1/18 here.
Home School groups or co-ops are not accepted and individual enrollments just simply visit the website to find their school and join under the sign up from there.
If your school is not already enrolled for the 2018-2019 school year you can ask the staff or your teacher to sign up or simply sign up with their address.


When: Now & All Summer Long
Grades: Infancy thru Age 8 & Up
By joining the Barefoot Books Summer Reading Club this year, your kids will get access to FREE members-only Summer Reading Clubhouse where they will receive:
A welcome letter with essential summer reading tips;
An official membership certificate for your child to color;
A kid-friendly reading log as well as a special Kindness Kingdom Book Report to track their summer adventures;
A recommended reading list that highlights favorite books to build kindness in children from infants to elementary;
Official club activities and downloads;
And more!
And this Summer's Reading Club for kids theme: Adventure to the Kindness Kingdom is totally FREE! It's all sent right to your inbox too so you don't have to remember to log in and do anything. You'll get them sent right to you.
How To Sign Up:
Just sign up for free online
You'll begin receiving your membership info, tips, and free downloads.
Simple as that - Enjoy!
8. Lifeway - Reading Quest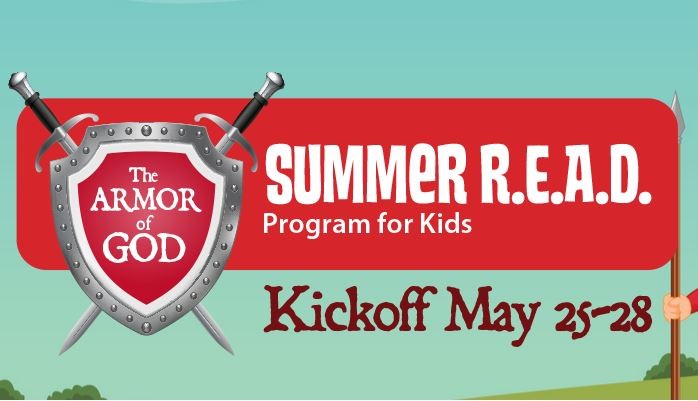 When: June 1st, 2018 thru August 31st, 2018
Grades: Recommended for Grades 1 thru 6 (but all are welcome)
LifeWay stores are launching their 2018 Summer Reading Quest with Bibleman to help them put on the full armor of God from June 1st to August 31st. To promote the love of reading in your home and encourage the word of God, this program is aimed at 1st to 6th graders and even toddlers from 1 to 5.
They have a recommended reading list divided up by level including Toddlers aged 1-5, Grades 1-3, and Grades 4-6.

All your child has to do is read six books over the course of the summer and memorize 6 Scripture verses. And in exchange for their reading efforts, once they turn in their completed Summer Reading Journal to a LifeWay store, they'll earn a Free Book and receive a new Free Bible!
In addition to their new free Bible, they'll be able to choose from one of nine titles available consisting of three books for each reading level - Toddlers aged 1-5, Grades 1-3, and Grades 4-6.

How To Sign Up:
Just visit your local LifeWay store to begin your quest and grab your FREE Summer Reading List, Summer Reading Program Journal, Bookmark and Pencil.
Or you can download your R.E.A.D Journal and your R.E.A.D. Bookmark right online
Once your child has completed their journal, simply take it back to your nearest LifeWay location by August 31, 2018 and they'll receive their free book and Bible!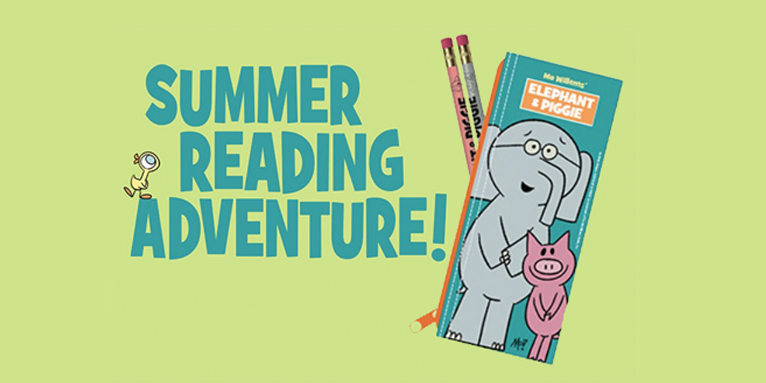 When: Anytime over the summer
Grades: Any
This 2018 Summer Reading Adventure Program by B-A-M is a great one to sign your kids up for because they offer fun reading rewards. The Summer Reading Program for 2017 let kids earn a free Maze Runner series water bottle.

All your child has to do is read any four books from the 75+ books in Books-A-Million Reading Challenge Selection both in-stores and online and this year, once they complete that challenge, they'll receive a Free Pencil Case with Pencils!
Just click here to print your Reading Adventure Notebook complete the Summer reading log for kids and present it back at your nearest Books-A-Million location to receive their free rewards. This is only while supplies last though.
How To Sign Up:

10. Audiobook Sync - Free Audiobooks For Teens

When: April 26th thru July 26th, 2018
Grades: Ages 13 & Up
Designed more for young teens and young adults, The SYNC Free Audiobooks for Teens Program is a Free Summer Reading Program for Teens. Readers aged 13 and up can get 2 Free Complete Audiobook Downloads each week during the summer!
Thru July 26th, each week SYNC will feature two high-interest titles each based on weekly themes - a current and a classic. Your kids can download the files from Thursday morning at 7am (ET) until the following Thursday at 7am (Eastern Time). After that a new audiobook willl become available.
You can also text syncYA to 25827 to be reminded when a new title is available each week so you're sure not to forget.

Each audio book download is in MP3 format and downloads through the OverDrive app which can be downloaded for free in your app store.
How To Sign Up: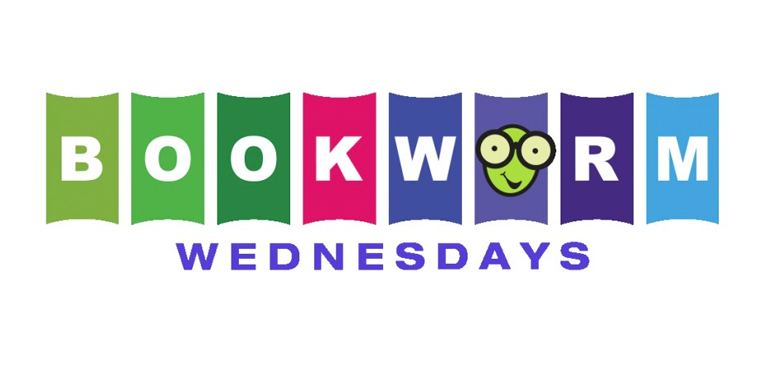 When: Every Wednesday from July 11th thru August 1st, 2018
Grades: All
During summer break Showcase Cinemas has a program called Bookworm Wednesdays where kids can earn free admission to a select children's film whenever they present a book report at any participating Cinema de Lux, Showcase, or Multiplex Cinema Box Office.
Even better, their accompanying parent or guardian and any other children under the age of six that are with them ALSO receive free admission and not even need to submit an additional book report! So you don't have to worry about paying for yourself or their sibling to get in to treat them to their free movie!
Once your child has read a book, just print them their Bookworm Wednesday Book Report Form and have them fill it out based on the book they've just read. And voila! That's admission for them, their parent and any of their siblings under six!
Take a look at the Summer movie lineup:

July 11th they'll be showing Ferdinand.
July 18th they'll be showing Trolls.
July 25th they'll be showing Kung Fu Panda 3.
August 1st they'll be showing Captain Underpants.
So they can enjoy their favorite movies on the big screen. For FREE! (Popcorn and sodas are extra though... of course).

How To Sign Up:
Just download your Book Report Form here and have your child fill it out based on a book they've read.
Then head over to your participating Showcase Cinemas at 9:00 am at some locations and 10:00 am everywhere else. (You can check your location times here)
Bring your book report with you to select your Bookworm Wednesday movie showing and that's your price of admission!
Enjoy the movie and keep up that reading!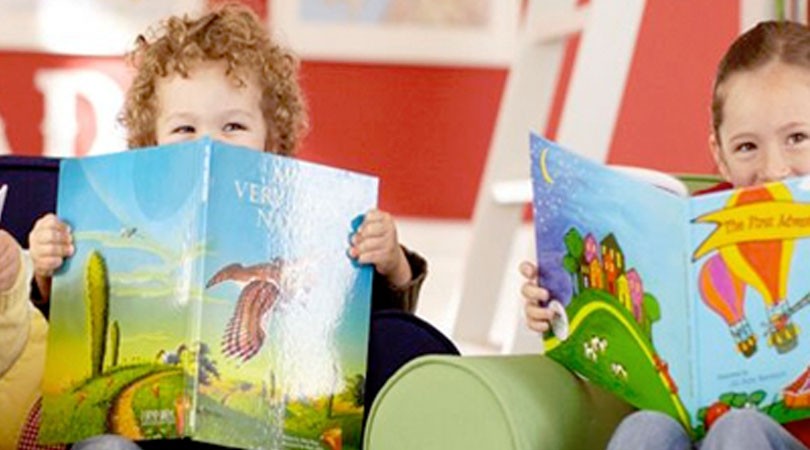 When: Every Tuesday at 11AM
Grades: Any
This free program is a little different but especially great if you have littler kids who maybe aren't quite at the reading on their own or doing book reports level yet. Or just if you'd like to get out and do some shopping and let the kids enjoy a little story time session for themselves.
The Pottery Barn Kids Weekly Story Time is a free story time session that's held at participating pbKids locations. Every Tuesday at 11:00 AM your children can enjoy a free story time with readings, activities and more.
Oh and if you're a Pottery Barn Kids Club Member you'll also get a special surprise after you've attended five of these events! These surprises have ranged from free books or prizes to $10 coupons.

How to Sign Up:

13. Six Flags - Read to Succeed Program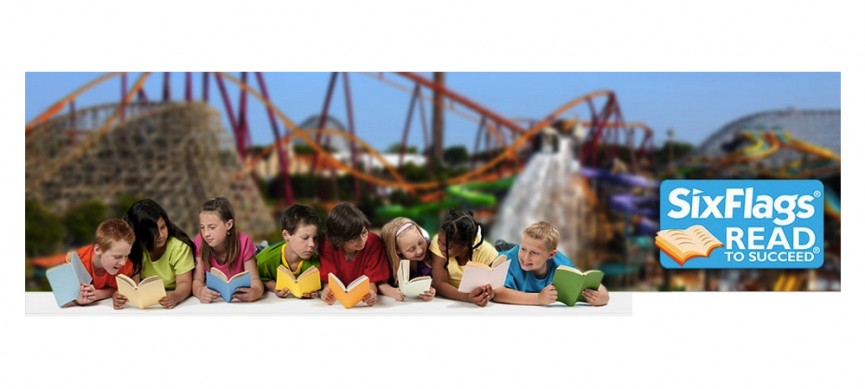 When: Fall During School Year
Grades: Kindergarten thru Sixth Grade
Six Flags has a great treat for K-6 students that complete six hours or more of recreational (non-school related) reading approved by their parents and teachers. As in, they'll get free admission ticket to their nearest Six Flags theme park!! That's pretty sweet right?!
The Six Flags Read to Succeed program encourages students to read for fun - not just because it's required for school. This program is available to teachers and schools with no enrollment or participation costs, and is a great motivator in getting kids excited to read.
The program opens up every fall with the new school year and goes until the summer of the following year. You can check out the Read to Succeed Eligibility Info to find out if your child or school is eligible.
How to Sign Up:
Just have your teacher or school get you signed up.
Then you can log in online to track your progress and check for available tickets.
14. TD Bank - Summer Reading Program
When: All Summer
Grades: Kindergarten thru Fifth Grade
The TD Bank Summer Reading Program is a great way for your kids to invest in themselves - in more ways than one! This reading program for kids in grades K thru 5 encourages them to keep their reading skills sharp during their summer break and also save some money too!
Because TD Bank will deposit $10 into a new or existing TD Simple Saving Account when each of your kiddos completes a reading challenge of 10 books! Ten books, ten bucks - doesn't get much easier than that!
Then as their reading skills and savings skills grow, they can also take advantage of some of TD Banks other great resources for kids including Personal Finance Lessons, Junior Banker Tours and Online activities.
How To Sign Up:

TD Bank is a national bank so you can find a location near you for participation in this program.
Or head to the TD Bank Wow! Zone to get more information on their programs and contact them.
Then just grab one of their Kids Reading Lists to keep track of the books your child reads and bring that in to have their $10 deposited to their account! Cha-ching!
15. Public Library - Summer Reading Programs

When: Year Round and special Summer programs all Summer long

Grades: All

And last but not least, of course, your local Public Library is always one of the best places to hit up for a great Summer reading program for kids. Your public library summer reading programs will likely vary from location to location. So just check out your local public library to see what type of library summer reading programs for 2018 they have going on this year.

Many of the branches offer kids reading rewards programs and also free story times that you can bring them to each week .They also have great family fun things like family movie days, activities and events and lots more all throughout the summer.

And best of all, you're support your local community library by heading over and checking out a few books or DVD's and participating in the Build a Better World Summer Reading Program offered by public libraries everywhere.

How To Sign Up:

---
Related Buyer's Guides and MomDeals' Lists:
Your turn: Do you know of some great summer reading programs that your kids loved? Be sure to let us know in the comments.